Magic moment with bottlenose dolphins worth the wait for photographer
Karen van der Zijden knew she had captured something special off Chanonry Point in the Black Isle.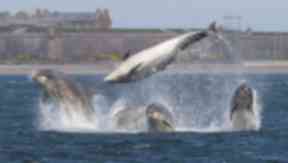 For 12 years she has watched the wildlife around Scotland's coastline, but when two pods of dolphins met in front of her camera Karen van der Zijden knew she had captured something special.
At first two dolphins propelled themselves into the air, followed by three and then, to her amazement, four at the same time.
The spectacular display, just off Chanonry Point in the Moray Firth, lasted only two minutes but the outcome will live on in her memory as one of her favourite moments of documenting these bottlenose dolphins.
"I don't think I have ever seen it like that," Karen says.
"It is spectacular to see. It is quite unusual to have it all come together - when they are jumping and I can manage to get it on photo and the light is good.
"It all depends on the tide. Sometimes you stand there and nothing happens and sometimes all of a sudden there are five mad minutes when they jump about."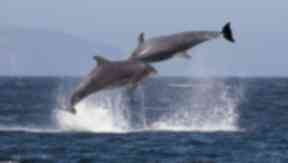 Since 1989, a research programme at Aberdeen University has been studying the population of around 200 bottlenose dolphins along the east coast of Scotland with the aim of supporting conservation programmes.
As part of this, the dolphins have all been catalogued through photo identification and been given names such as Squat Fin, Scoopy and Sundance.
For more than a decade, Karen has returned every year in her spare time between full time work as a business support officer and been greeted with the same familiar 15-strong group of dolphins.
Her dolphin documenting began in 2005 when she made the move from The Hague in the Netherlands to Inverness.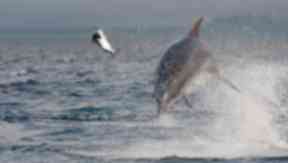 "I liked nature and wildlife but (The Hague) was getting a bit overpopulated so I decided to move somewhere where there is still plenty of nature and wildlife," she says.
"Part of it as well was that I knew there were lots of dolphins here.
"On the first day I arrived in Inverness, I drove to Chanonry, parked my car, looked through the windscreen and there they were. So I was quite lucky.
"This is the 12th season I have been photographing them and it never ceases to amaze me, to be able to see them in the wild."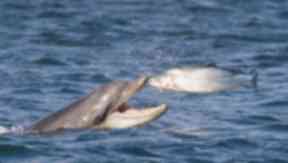 Joining a small community of avid dolphin watchers and a growing trend of tourists to the spit of land extending into the Moray Firth, Karen says she can spend up to five hours at a time there.
With her flask of coffee to hand, she watches dolphins swim close to the shore as they look for food during the peak periods of May and August.
"It is often when the salmon come in that the dolphins tend to come closer and they hang about Chanonry Point to wait and catch their salmon there," she explains.
"In the summer, we live our lives around the tides. If somebody asks you over for dinner, you first check the tide - it is a bit of an obsession."
After studying these dolphins through a lens for over a decade, Karen says she has become particularly fond of a dolphin named Kesslet and her son Charlie.
"There's a group of dolphins that are very regular at the Point," she says. "Over the years, you start to recognise them.
"Sometimes, you see one that has a baby and you see the babies growing up. It is nice to follow it over the years.
"There's a dolphin called Zephyr I had seen jumping a day or two before, and when I went back to Chanonry, there she was with a tiny calf that was only one day old, it is wonderful to see."
Posting her latest dolphin shots on Facebook group Scotland from the Roadside, Karen has been overwhelmed by the recognition of her work and the shared appreciation for the dolphins living in Scotland's waters.
It follows a sighting of six killer whales in the waters near the village of Findhorn in Moray last week and the rescue of a stranded bottlenose dolphin in Nigg Bay.
"It is great if you get the jumping shot but they do lots of other stuff as well like play about with seaweed and you see them interacting with each other," Karen says.
"I like them because it shows the way they live their lives and the social activity between them."
She adds: "It is still about the experience for me as well. After all these years, I still get excited."
Download: The STV News app is Scotland's favourite and is available for iPhone from the App store and for Android from Google Play. Download it today and continue to enjoy STV News wherever you are.