Centenary of Great War naval tragedy marked in Orkney
The sinking of HMS Hampshire saw 737 killed, including Lord Kitchener and his staff.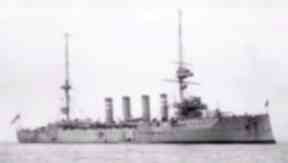 The 100-year anniversary of the sinking of HMS Hampshire during the Great War, which saw hundreds of lives lost, is being marked in Orkney.
The warship went down when she was struck by a mine laid by a German submarine off Marwick Head in June 1916.
A total of 737 people were killed, including secretary of state for war Lord Kitchener and his staff.
The minister was being taken to Russia for secret talks with Tsar Nicholas II when the tragedy occurred, just days after the Battle of Jutland.
On Sunday, a commemorative wall which lists the names of all those who died will be unveiled.
The Kirchner memorial, which was erected in 1926 above the cliffs at Marwick Head, is also being restored to its original condition.
Descendants of those who died are expected to take part in the event on Sunday evening.
The Royal Navy destroyer HMS Duncan will be at site of the sinking and will fire a single gun salute at 8.45pm, the moment 100 years ago that HMS Hampshire was lost.
A minute's silence will then be held, followed by another single gun salute.
The commemorative wall will also list the names of nine servicemen killed when a smaller vessel, HM Drifter Laurel Crown, sank after hitting another mine in the same area less than three weeks later.