Critical shortage of teachers 'could force schools to close'
There are 134 teaching vacancies across Aberdeen and the problem is growing.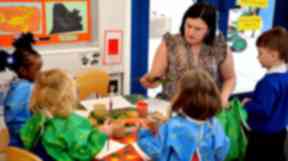 Aberdeen schools could be forced to close because of a growing shortage of teachers, it has been claimed.
There are 134 teaching vacancies across the city - nearly double the number there were nine months ago.
The problem has continued to grow despite the council offering "golden hellos" of up to £5000.
Redundancies in the oil industry have also led to teachers moving away with their families, according to council education chief Angela Taylor.
The local authority has called for the Scottish Government to intervene.
Ms Taylor said: "This is a very serious issue - a recent report highlighted there were 134 vacancies and there is a risk we might have to close schools.
"It's not an empty threat, we need to get teachers in front of classes.
"The problem has been exacerbated by the downturn in the oil and gas industry as people have been leaving the city along with their partners. I think we've tried everything we can."
There are 68 vacancies in primary schools, 25 in secondaries, 19 in early education and 22 jobs for specialists working with special needs children.
The Educational Institute of Scotland's Drew Morrice said: "The north east has suffered because of teacher shortages and there is a growing crisis in Aberdeen which requires a degree of intervention by the Scottish Government to solve.
"There may be a number of reasons - high housing prices may be a factor and the downturn in oil has exacerbated the problem.
"You can plan for teachers retiring but if they suddenly resign and go that creates a problem you may not have anticipated.
"Across Scotland a number of councils have reported problems with teacher recruitment and that's a concern for everybody who is invested in education."
A spokesman for the Scottish Government added: "Last year we invested £51m to safeguard teacher posts and we have increased student teacher numbers in each of the last five years, specifically targeting places at the University of Aberdeen.
"Through the Transition Training Fund we are committed to helping oil and gas sector staff move to a career in teaching, particularly in science, technology, engineering and maths.
"We are also supporting the University of Aberdeen's distance learning teacher education programme, which allows council employees to retrain as teachers while staying in work."
Download: The STV News app is Scotland's favourite and is available for iPhone from the App store and for Android from Google Play. Download it today and continue to enjoy STV News wherever you are.