Safety warning after woman crushed to death by cow at farm
A Fatal Accident Inquiry found Patricia Wishart was pinned against a pole by the animal.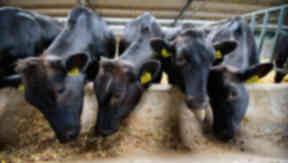 A sheriff has urged farmers to follow safety advice following the "tragic" death of a woman who was crushed by a pregnant cow.
A Fatal Accident Inquiry into the death of Patricia Wishart at her farm in Bixter, Shetland found she was pinned down and struck by the cow after she entered its pen.
Mrs Wishart, 62, entered the pen in March last year to check on the animal, but it became startled and fell over, pinning her against a scaffolding pole which made up part of the pen.
Her husband Robert Wishart was able to beat the cow off her and gave her CPR, but she died in the byre.
In his FAI determination, sheriff Philip Mann said the tethering arrangement for the cow allowed it to move too far forward.
He also said that since Mrs Wishart entered the pen head-on to the animal, it would have seen this as a threat.
The sheriff said her death may have been avoided if she had entered by the side of the pen.
However he said "it is very easy to counsel perfection after the event" and noted the industry was inherently dangerous.
Sheriff Mann said: "It is testament to the care taken by Mrs Wishart and her husband in the running of their crofting business that they were engaged in it together for many years without major incident.
"It is tragic that their long and harmonious personal and working life together has been brought to an end in such a sudden and unforeseen way by an accident the likes of which could, but for the grace of God, strike at anyone at any time in this particular industry.
"All that we can hope for is that any publicity given to this case will encourage farmers and crofters to pay attention to the published advice of the Health and Safety Executive and the National Farmers Union who, I am told, in the week when this inquiry took place launched a campaign to raise awareness of the dangers which exist in the industry."