Men 'tried to murder family during charity event at pub'
John and Sylvia Gallacher and their daughter Charlie all suffered stab wounds.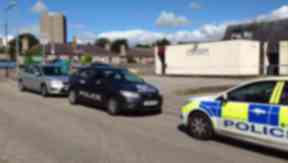 A father and his family were stabbed after he tried to stop a man making crude comments to his daughter outside a pub, a court has heard.
John Gallacher, 64, his wife Sylvia, 55, and their daughter Charlie, 30, were allegedly attacked outside the Broadsword Bar in Aberdeen on August 30 last year.
They were attending a charity fundraising event for Cancer Research when the incident happened.
Matthew Boyle, 42, and Kevin Deans, 40, are on trial at the High Court in Aberdeen charged with attempting to murder the family.
It is alleged that both men acted together to stab members of the family in the head and body, leaving them severely injured and permanently disfigured.
Giving evidence on Wednesday, Mr Gallagher said a fight broke out when he stepped in to help his family.
The scrap metal recycling operations manager said he was disgusted by remarks Deans made to his daughter.
He said: "He was trying to draw the attention of my daughter and eventually did and then he started being foul-mouthed and filthy with her. I told him to get home and get a big bar of soap to wash his mouth out."
Mr Gallagher said he was leaning on a railing and claimed Deans swung towards him.
He told the court: "I tried to get a hold of him but another person intervened as well and started to assault me. They were punching and kicking and I ended up on the floor."
Mr Gallagher said he was aware of another person pulling Boyle away.
Turning to Boyle, who was sitting in the dock, he branded him a "coward" as he told the court how the two men who ran off, but returned to the scene shortly afterwards with knives.
He said his wife and daughter were standing in the pub car park at the time.
He said: "They went to confront the guys coming with knives. I don't know whether they walked or ran towards them.
"My daughter was shouting: 'Just go away. We don't want any trouble' and then obviously she was attacked.
"Someone came to the side of me and I ended up with a blow to my side."
Charlie Gallagher said she was stabbed in the back and stomach but initially thought she had been punched until she saw blood.
She told the court she was stabbed while wrestling with Boyle on the ground trying to stop him returning to attack her father.
Mr Gallacher suffered a punctured lung and nerve damage caused by a stab wound to his ear, which left him unable to close one of his eyes.
Sylvia Gallacher also suffered a lung injury.
Defence lawyer David Moggach suggested to Miss Gallagher that a big fight had broken out involving the whole family and the two men outside the pub.
But she denied the claim and insisted that she had only been trying to get the men off her father.
Boyle and Deans both face three charges of attempted murder and drug possession charges but deny all alleged offences.
Boyle has lodged the special defence of self defence.
Download: The STV News app is Scotland's favourite and is available for iPhone from the App store and for Android from Google Play. Download it today and continue to enjoy STV News wherever you are.