Friend tells of night family 'stabbed outside city bar'
Court told party had enjoyed 'a lovely evening' before alleged knife attack on parents and daughter.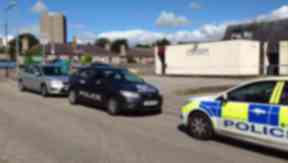 A woman told a court how she went to help a family allegedly stabbed outside a pub and was then assaulted herself.
Elaine Meldrum, 52, told the High Court in Aberdeen she was attacked at the city's Broadsword Bar after attending a charity fundraising night.
She claimed her friend's husband, John Gallagher, 64, and Matthew Boyle, 42, appeared to be "bickering" when she arrived outside the Hayton Road pub.
Boyle and Kevin Deans, 40, are on trial accused of attempting to murder Mr Gallagher, his wife Sylvia, 55, and their 30-year-old daughter.
It is alleged that both men stabbed the family members on the head and body, leaving them severely injured and permanently disfigured.
Mr Gallagher claims his family came under attack after he tried to stop Deans making crude comments to his daughter on August 30, 2015.
On Wednesday, Ms Meldrum said she could hear people arguing before the alleged attack happened outside the bar.
She said: "I don't know who was arguing. I could hear John saying, 'Back off - go away.'
"I think it was Matthew he was saying it to."
She described events at the end of the night as being "all mixed up" because she was hit over the head with a bottle.
"I was just standing there and then I saw Matthew coming towards me," she said.
"The next thing I know, I felt a clink at the bottom of my head."
Ms Meldrum said she felt dazed and shocked after she was attacked. She claimed she knew she had been struck by a bottle because it smashed on the ground beside her.
She told the court: "We had a lovely evening and then it was just ruined."
On Wednesday, Mr Gallagher told the court that the incident began after he stepped in to stop Deans making "filthy" comments to his daughter.
The recycling operations manager claimed Deans and Boyle, who had been sitting outside the bar earlier in the night, started assaulting him.
The court heard Mr Gallagher was taken to hospital with stab wounds, along with his daughter and wife who were also allegedly knifed during the attack.
Ms Gallagher received stitches and her dad suffered a punctured lung and a stab wound on his ear, which left one of his eyes unable to close.
Mr Gallagher's wife was also injured and had a tube inserted to drain blood from her lung.
Boyle and Deans both face three charges of attempted murder and drug possession charges but deny all alleged offences. Boyle has lodged the special defence of self defence.
The court later heard evidence from PC Derek McKay, who told the court that he had overheard a conversation after arriving at the entrance door to Boyle's home shortly after the alleged attack.
He told the court his sergeant had recorded the conversation.
Asked what was said, he replied: "It was very, very faint.
"I briefly heard something about stabbing, but that's all, I didn't hear anything about it."
Sergeant Allan Masson said he also heard the discussion broadcast on the flat intercom system.
He told he court he heard someone say: "She deserved what she got. She's a dirty w***e.
"You're going to get lifted and I'm going to get lifted. I can't believe this happened mate."
He said only one man was speaking while the other person was making "agreement noises".
The court heard Deans was later detained by police at the flat and Boyle was taken away for questioning at the Kittybrewster custody unit in Aberdeen.
Download: The STV News app is Scotland's favourite and is available for iPhone from the App store and for Android from Google Play. Download it today and continue to enjoy STV News wherever you are.