OAP reunited with woman she saved from blaze 24 years earlier   
Laura Duncan was working as a befriender when she had a chance meeting with Irene Anderson.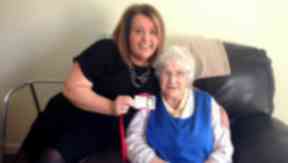 Laura Duncan can vividly remember the moment she woke to the sound of frantic knocking on the front door of her family home.
Running downstairs in the early hours of a summer's morning in 1992, she met her equally bemused father in the hallway.
Even 24 years on she can still feel that sense of panic as they opened the door to a man shouting that their house was on fire.
Little did she know that Irene Anderson was waiting in a nearby car after spotting smoke billowing out of the bay window while passing Talisman Road in Aberdeen. She quickly screamed at her colleague to stop the car and alert the family.
Acting quickly, Laura ran to wake her brother Stephen while father Duncan woke mother Maureen, and the family-of-four evacuated the building just minutes before fire blasted out of the bay windows.
Irene also remembers the noise of the shattering glass as the flames grew in ferocity, but once the fire brigade arrived and she heard that the family were safe, the pair set off for work in a bakery.
Irene never did meet the family she had helped save, and the Duncan family were none the wiser she had also been so instrumental in saving their lives.
But, as fate would have it, a befriending programme put Laura and Irene back into contact over 24 years on, and the final pieces of the jigsaw fell into place.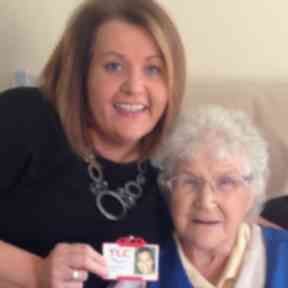 Signing up as a volunteer to a new scheme set up by charity TLC which aims to improve loneliness and isolation in the south of Aberdeen, Laura, now 46, says there was an instant connection when she met Irene a few months ago.
"When I met her on the first week, we got on famously," the service coordinator who works in the oil industry, says.
"On the second week, we discovered we had both come from the same area. I said my address and the road I had grown up in and Irene had said she had lived around the corner."
The name of the road triggered memories of the fire for 82-year-old Irene, and set her off on her version of events from that morning.
"As Irene was telling me this story, it was dawning on me that she was talking about me because I was the daughter who was standing at the front door and it was my parent's house that was on fire," Laura says.
"I remember it like it was yesterday. We had no idea. We couldn't see any smoke and couldn't even smell smoke."
Having worked out the fire was coming from the living room, Laura's dad opened the door in a moment of panic, knowing the family dog was in that room, but the instant glow which beamed back at them left them with no option but to close the door and run to save Stephen and Maureen.
"My mum started screaming for our dog and then the windows blew out of the living room and we weren't allowed to go back in to the house," Laura says.
"I had absolutely no idea there was a woman there, we were so consumed with what was happening."
The fire, caused by an electrical fault, stripped the ground floor of the home back to the brickwork with only a few family photos and some furniture saved by the fire brigade.
"We were devastated that we lost our dog, however, it could have been so much worse," Laura says. "We never moved back to the house, my mum was quite devastated about it.
"And Irene never knew where we went. She had read about the fire in the paper but didn't know where we had gone."
After the fire, Irene's colleague contacted the police to send on their best wishes to the family but the family never learned about Irene's involvement.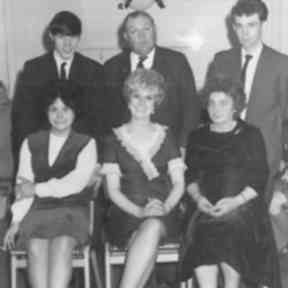 Sitting together over two decades on, Irene recalls feeling a bit shaken once arriving at work that morning.
She never did discover that the home belonged to the Duncan family or that Laura's mum Maureen was in fact an acquaintance she had once known. Now, plans are being made for Irene and Maureen to reunite once again.
"My mum is in disbelief," Laura says. "I am going to take her to see Irene because they have not seen each other in such a long time.
"My brother is also a bit emotional just like me about it and he would love to meet Irene too."
Joking that she will now have to up her biscuit supply during the weekly visits to see Irene, Laura is also planning a thank you treat outside of her volunteering role to take Irene to one of her favourite places - the theatre.
"I think everyone should have a befriender," Irene says. "It helps me a lot because I don't get out."
"Irene, my hero," Laura says laughing. "I lost my grandparents years and years ago but I truly feel a connection with Irene, she just feels like my Gran.
"It is definitely destiny. I think a good turn 24 years ago is being repaid now because I owe Irene quite a lot.
"TLC is one of the greatest things I have ever done because I have got so much more out of it than I ever thought I would.
"I thought I could help someone but actually she has helped me just as much as I have helped her."