Stinging lion's mane jellyfish wash up on Scottish beaches
They have been seen as far afield as Aberdeen, the Hebrides, Orkney and Angus.
A species of jellyfish with a painful sting is washing up on beaches across Scotland.
The Marine Conservation Society (MCS) says there has been a rise in sightings of lion's mane jellyfish this summer.
They have been seen as far afield as Aberdeen, the Hebrides, Orkney and Angus.
Pamela Morrison, who took pictures of the jellies at Cove Bay in Aberdeen, said they were "lining the beach".
Lion's manes are reputed to have the most painful sting of any jellyfish found in British waters.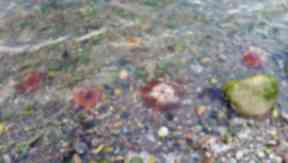 The MCS believes the number of jellyfish blooms in Britain is on the rise because of warming seas.
Head of biodiversity and fisheries Dr Peter Richardson said: "There's evidence that jellyfish numbers are increasing in some parts of the world, including UK seas.
"Some scientists argue that jellyfish numbers increase and then decrease normally every 20 years or so, however others believe these increases are linked to factors such as pollution, overfishing and possibly climate change.
"The MCS jellyfish survey helps provide some of the information we need to understand more about these ancient creatures."
Other jellyfish to look out for in the UK include the barrel, blue and moon species.
Dr Richardson added: "We still know relatively little about jellyfish and what drives changes in their numbers, so reporting even a single one can help.
"One thing we do know is that leatherback turtles travel to UK waters to feed on jellyfish and are usually recorded along the west coast of the UK between May and October - this year we've already heard of sightings from the south west of England and the Irish Sea."
Download: The STV News app is Scotland's favourite and is available for iPhone from the App store and for Android from Google Play. Download it today and continue to enjoy STV News wherever you are.