Motorcyclist caught doing 138mph in rush hour traffic
Police caught another rider doing 77mph in Aberdeen city centre during a two day crackdown.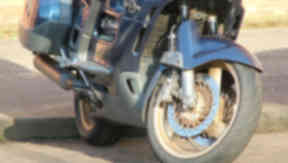 A motorcyclist who hit 138mph in rush hour traffic on the A90 north of Stonehaven has been charged with dangerous driving.
The 31-year-old will appear at court and could go to prison as police say his speed could have been 'fatal'.
Police also caught a 23-year-old motorbike rider travelling at 77mph in Aberdeen's city centre.
Officers were on patrol in the Gallowgate when they stopped the man and charged him with dangerous driving.
Police carried out patrols, particularly focusing on commuter traffic on the A90 south of Aberdeen, on Thursday and Friday morning.
Sergeant Steve Manson from the trunk road patrol group said: "It is extremely concerning that two motorcycles have been travelling at 138mph on the dual carriageway and 77mph in the city streets.
"Any collision at these types of speeds, particularly on a motorcycle, would most likely involve a fatality.
"The best case scenario for a typical reaction time for an alert driver is 1.5 seconds and at that speed they would travel nearly 100m prior to even starting to brake or react to the danger.
"We still have a disproportionate number of motorcycles fatalities in the area and these types of motorcyclist demonstrate exactly why this is the case."
Using marked and unmarked police vehicles, officers caught 12 drivers speeding, with five of them reaching speeds higher than 90mph.
In addition, five drivers were caught using mobile phones and police also detected a number of MOT and excise offences offences over the two mornings.
Sgt Manson added: "It's concerning that all the drivers on the A90 were detected over the course of a few hours each morning in only two days.
"The A90 south of Aberdeen is always busy from early in the morning and anyone who travels that road will know how much additional congestion is caused by even minor collisions.
"Travelling at excessive speed, particularly in busy traffic, drastically increases the chances of being involved in a collision.
"Despite our repeated messages and highlighting the issue with Operation Zenith, it's disappointing that a small minority of people continue to place themselves and others in danger by travelling at completely inappropriate speeds.
"Road policing officers will continue to work together to target specific areas, routes or repeat offenders."