Cows worth £32,000 stolen from Aberdeenshire farms 
As many as 20 cattle were stolen during July at farms across the Garioch area.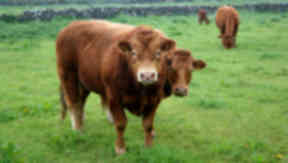 Police are appealing for witnesses after as many as 20 cows were stolen from farms in Aberdeenshire.
Thieves took three Limosin, two Simmental and a British Blue cow from fields between Blackburn and Hatton of Fintray between June 27 and July 8.
In a separate incident, up to 14 Charlois cows were stolen from a field between Monnymusk and Castle Fraser at around 2pm on Wednesday, July 27.
Police said the combined value of the animals, which all have visible ear tags, is believed to be more than £32,000.
Garioch inspector Jon Millar said: "We are appealing for any information on these incidents which may or may not be related.
"While this type of crime is relatively rare in this area, the loss of cattle can have such a devastating and lasting impact on farmers and their families and we are working with them and the wider farming community and industry to try to identify who is responsible and where the cattle have gone.
"It is believed the animals were herded into a waiting vehicle.
"Our local officers are providing additional visibility in the area and we will continue to work with our partners and communities to reduce the risk of further incidents.
"It is vital we speak to anyone who may have seen the cattle being taken from the field or walked along the road. I'd also specifically appeal to anyone who may have been offered the livestock or carcasses."
Anyone with information about the thefts or location of the stolen cattle is asked to contact Police Scotland on 101 or the charity Crimestoppers on 0800 555 111.