Emergency staff crawl through rubble in training exercise
Firefighters and ambulance personnel take part in simulated building collapse in Aberdeenshire.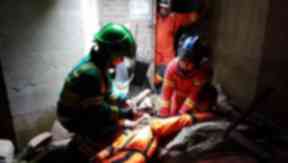 Firefighters and Scottish Ambulance Service staff have crawled through rubble to reach casualties in a simulated building collapse.
The intense training exercise was designed to arm crews with the skills needed to help people caught up in a natural disasters.
Members of the specialist rapid response team are part of the UK International Search and Rescue (UKISAR) unit, which provides emergency support around the world.
It is one of 27 expert UN-classified teams available to respond after earthquakes, hurricanes, tornadoes and tsunamis.
Firefighters embarked on the training exercise at SFRS College Portlethen in Aberdeenshire with workers from the Scottish Ambulance Service's special operations response team.
The emergency responders crawled through rubble to reach wounded people.
Working in cramped and dark conditions, they worked to find, stabilise and remove the casualties from the ruins.
Deputy assistant chief officer Andy Coueslant, the SFRS head of service delivery in the north, said: "We are very pleased to contribute to the UKISAR team by providing on-call specialists who can be sent to help people far beyond Scotland when disasters strike.
"We have these specialist capabilities and are able to deploy them to save lives wherever and whenever they are needed.
"As we have seen in tragedies around the world, the international effort can make a big difference and we are proud to be part of that."
Crew manager Martin Vardy, one of the SFRS firefighters on the UKISAR team, said the exercise focused on casualty care, which is a key part of disaster operations.
He added: "It was great to have the help of the ambulance team as we practised stabilising severely injured people and getting them safely from collapsed structures.
"Firefighters and paramedics work side-by-side at incidents every day so there's obviously a huge amount of respect between our two services.
"Taking part in a joint exercise with their Special Operations Response Team was a great opportunity to benefit from their medical expertise and that's something that can only benefit us and the people we may be sent to help."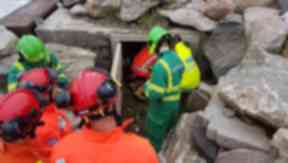 Mr Vardy and his colleagues were part of the UK's humanitarian mission to Nepal after a devastating earthquake struck the Himalayan country in April last year.
Nearly 9000 people were killed and almost 23,500 injured by the magnitude 7.8 shock.
It also left nearly 3.5 million people homeless.
The UKISAR team were sent to a cut-off area where residents were unable to access even basic medical help.
After arriving by helicopter, the firefighters managed to set a young boy's broken arm using a plastic bottle as a splint.
They also arranged for a four-year-old girl with a serious leg injury to be airlifted to hospital and provided first aid to dozens of residents in isolated villages.
The team reinforced a damaged hospital building and provided it with clean water to allow 800 beds and ten operating theatres to go back into use.
Mr Vardy added: "As well as our regular duties with crews at our stations we also train as a team every month.
"It's important to maintain these skills so we're ready if we are needed.
"We are currently on call as part of the UK government's response to any large scale natural disasters, so we can be mobilised anywhere in the world at short notice."
Download: The STV News app is Scotland's favourite and is available for iPhone from the App store and for Android from Google Play. Download it today and continue to enjoy STV News wherever you are.