Man attempted to murder family at pub charity night
Matthew Boyle stabbed former high security prisoner John Gallagher and his family.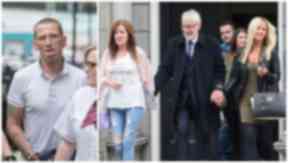 A man has been convicted of trying to murder a family of three who were attending a charity night at an Aberdeen pub.
Matthew Boyle was found guilty of stabbing 64-year-old John Gallagher - a former high security inmate who was involved in the Peterhead prison riots in the 1980s - his wife Sylvia, 55, and 30-year-old daughter Charlie outside Broadsword Bar on August 30.
The couple had travelled from their home in the Highlands to visit their daughter in Aberdeen, where Mrs Gallagher had arranged to meet friends at a reunion night at the city pub.
The High Court in Aberdeen heard how the family were attacked in the pub's car park by Boyle, 42, after his friend Kevin Deans had made "vulgar" comments towards the couple's daughter.
Mr Gallagher, who was defending his daughter, was left with a punctured lung after Boyle stabbed him in the side of his chest and through his ear.
The scrap metal firm operations manager is still receiving treatment and his left eye is unable to close because of nerve damage.
He said he was disgusted by the comment made to his youngest daughter while giving evidence to the jury.
He told the court: "He was trying to draw the attention of my daughter and eventually did and then he started being foul mouthed and filthy with her.
"I told him to get home and get a big bar of soap to wash his mouth out."
He said the two men eventually ran from the scene but Boyle returned with a knife and stabbed him along with his wife and daughter, who were all taken to hospital shortly afterwards.
Jurors were told Mrs Gallagher was initially diagnosed with a chest injury at Aberdeen Royal Infirmary, but was admitted to Raigmore Hospital in Inverness a few days after she was discharged and informed she had fluid in her lungs which had to be drained.
The mother explained to the jury that doctors had warned that she would only have lived for a further six hours if she had not sought medical help.
It emerged during the trial that police officers accidentally stumbled on evidence which helped convict the family's attacker after they turned up at the front entrance of Boyle's block of flats to hear the criminal discussing the stabbing on the intercom.
Pub revellers had identified him as a possible suspect leading officers to his Portal Crescent flat.
Two officers listening at the intercom speaker heard the accused say: "She deserved what she got."
Constable Derek Mckay said only one man, who he identified as Boyle, was talking while the other was making agreeing noises.
Deans, who had originally been charged with attempted murder, was found guilty of behaving in a threatening or abusive manner by making an indecent remark to Charlie Gallagher but walked free from court after the Crown decided not to move for sentence.
Boyle, who lodged a special defence of self defence, was cleared of making an indecent comment towards Miss Gallagher.
Drugs charges against the two men were also withdrawn.
The court heard Boyle had been convicted of a similar serious assault in August 1990 and has since been prosecuted for several charges of violence and dishonesty.
Judge Lord Burns deferred sentence until September 9 at the High Court in Glasgow for background reports and said he would consider whether to impose an extended sentence to protect the public.
Following the trial, Mr Gallagher, who now mentors prisoners on a Self Management Recovery Training programme, said he was not sure that his attacker could ever be rehabilitated while in prison.
Mr Gallagher said: "I don't think anyone can do anything for him. I think he's just too far gone."