Pensioner dies after suffering with deformed leg for 13 years
Michael Cull's left leg swelled to more than twice of his right one after contracting an infection.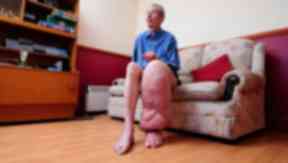 A pensioner who suffered for more than ten years with a debilitating deformed leg has died.
Michael Cull's left leg had swollen to more than two and a half times the size of the right one after he contracted what is believed to be a parasitic infection following a road accident.
The 68-year-old, from Rosehearty in Aberdeenshire, died at Aberdeen Royal Infirmary on Thursday morning, having been in hospitals for the past five weeks after undergoing a biopsy.
His close friend Christina Brooks, who was with Mr Cull when he died, said she was "heartbroken" at the pain and suffering he experienced since developing the condition in 2003.
She told STV News: "Around five weeks ago he had biopsies at Aberdeen Royal Infirmary before we went down to Newcastle for a trip.
"We were told it shouldn't bleed a lot but it did. He became quite ill and dizzy and was taken into hospital in Newcastle where he was in intensive care for three weeks.
"They were pumping blood and antibiotics into him before he was then transferred back to Aberdeen Royal about two weeks ago.
"By the end his leg had turned black and blue, it looked like he had been in a torture chamber - but it wasn't down to the care he had received or anything, it was just the way it had gone.
"I could hear his screams of pain from the other end of the hospital corridor when I went to visit. Poor old Mike, he had a really rough life walking around in pain and I'm absolutely heartbroken he suffered like that."
She added: "I was with him from 5pm on Wednesday right through to 6am on Thursday - he died at around 3am. He had taken a turn for the worst."
In 2014, Mr Cull hoped to undergo an operation in Hull to have three and a half stone of tissue removed in what would have been life-changing treatment.
Hull and East Yorkshire Hospitals NHS Trust reversed its initial decision to provide the operation, however, saying it would be more appropriate for his care to be delivered in Scotland.
He told STV News the condition dated back to 2003 when he was knocked down at a zebra crossing in London.
Five weeks after the accident - following an operation - his leg began to swell and become painful.
Ms Brooks said she believed not enough was done by NHS Grampian to treat Mr Cull's rare condition.
She added: "The biopsies found two great big tumours in his leg, which we didn't know about. He must have developed them in the past three years since his last scan.
"He had the plug pulled on the treatment in Hull and I feel that he never really had any alternative treatment do that - more could have been done. I think if more had been done years ago, this would never have happened.
"He was my best friend and I'm his next of kin - I'll be organising the funeral myself. He had hopes of getting the right treatment and not having to live with the agony of the leg, of tying his shoes and walking around in specially made trousers.
"It breaks my heart what that man's been through. It's all wrong and it's ended with my friend dying when it's not necessary."
Ms Brooks said she will be raising her concerns over Mr Cull's treatment with NHS Grampian.
A spokeswoman for the health board said: "Due to patient confidentiality we cannot discuss individual cases.
"However, if Mr Cull's family or next of kin are in any way concerned about the care or treatment received, then we would urge them to contact our feedback service and we will respond to them directly."