Council probes helicopter landings after car window smashed
Shetlands Islands Council is investigating the use of an emergency landing site.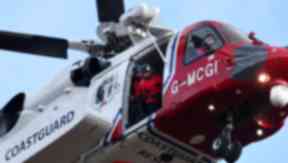 Shetlands Islands Council is investigating after a landing emergency helicopter smashed a car window.
Residents living near the Clickimin landing site have said the coastguard helicopters have led to damage to nearby properties and unacceptable levels of noise.
During a landing on Sunday, gravel was thrown up by the helicopter's downdraft and smashed the window of a car.
Bristow Helicopters, who operate the service for the coastguard, say they only use the site in life and death situations to transfer casualties to hospital. The company is dealing with the insurance payout for the damage.
The council's convener Malcolm Bell said: "We recognise the concerns that have been expressed to us by residents about helicopter landings.
"The emergency landing site is a vital public asset for people in Shetland and those either visiting or working around our shores and it's important that we have it as close to the hospital as possible.
"Noise monitoring equipment is in place, as a condition of the planning permission for the site.
"Discussions are underway with the parties involved to see what can be done to improve the management of helicopter landings and to minimise the impact that this will have on those living in the area.
"The disturbance by occasional helicopter landings has to be balanced against the number of lives that may be saved by its use."
A spokesman for Bristow Helicopters said: "Our primary concerns are the safety of the casualties, our crew, the local community and our aircraft, and we take this into consideration when determining which available landing site to use when on a tasking.
"While we fully understand the concerns of local residents, the Clickimin landing site is the current allocated emergency landing site (ELS).
"We can assure residents that the helicopter crews only use the Clickimin ELS in life or death situations to affect a quicker transfer to the hospital than the landing sites at Sumburgh and Tingwall can provide.
"Bristow and HM Coastguard are working with Shetland Islands Council regarding the Clickimin ELS.
"A meeting has taken place this week and recommendations were put forward by the helicopter crew for improving the use of the site and in order to address residents' concerns."