One injured as historic fishing boat is swept over by wind
Reaper, which was built in 1902, has been partially submerged in Johnshaven harbour.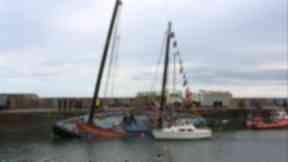 One person has been injured after a historic sailing boat was swept over by wind and partially submerged.
Reaper, a 70ft fishing vessel which dates back to 1902, was berthed in Johnshaven harbour in Aberdeenshire as part of a fishing festival.
The fire service were called to the scene around 1.20pm on Saturday to help refloat the vessel, after the wind caused it to list over to one side.
STV News understands one person was taken to hospital by ambulance following the incident.
Attempts to refloat the historic vessel have so far been unsuccessful.
The vessel was refitted in 2004 and turned into a museum ship, becoming the flagship for the Scottish Fisheries Museum.