Rescue helicopters return to skies after safety concerns
S92 aircraft were grounded worldwide this week while inspections were carried out.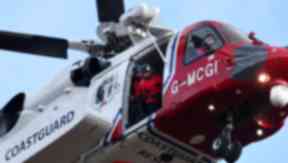 Scotland's search and rescue helicopters have returned to the skies after being grounded over safety concerns.
Manufacturer Sikorsky called for inspections to the tail rotors of all S92s on Tuesday after a helicopter spun out of control trying to land offshore.
The decision temporarily grounded the UK Coastguard's entire Scottish fleet.
All coastguard helicopters were cleared to fly by Tuesday evening and the grounding is not believed to have hampered any rescue operations.
Maritime and Coastguard Agency spokesman Damien Oliver said: "This was a highly unusual situation but we were prepared and we pulled out every stop when we were told about it at 8am on Tuesday..
"We had provision for crews to fly other aircraft if needed and of course we have a huge number of resources available in this country for search and rescue operations in addition to our helicopters - coastguard rescue teams, the RNLI, and mountain rescue to name but three.
"Over the coming months, we will be mixing our fleet of aircraft so that we will always have a contingency option in the event of a fleet grounding."
Extreme weather is delaying the return of S92s used by the oil and gas industry.
Bristow and CHC completed hangar inspections on the majority of their fleets on Tuesday but 12 of CHC's 14 UK S92s still have to undertake test flights before they are fully cleared to fly.
A spokeswoman for Bristow said: "Several aircraft completed their inspections and subsequent air test yesterday and were returned to service and the remainder, which were inspected overnight, are awaiting their air test today.
"We achieved seven flights out of Aberdeen and our Shetland Island bases yesterday utilising an AW189 and the S92s that had been returned to service.
"However, air tests and normal flight operations are being delayed today by high winds, high sea state and triggered lightning.
"Bristow continues to work closely with its clients and will resume normal flight operations as soon as possible."
Babcock - formerly known as Bond - expects its helicopters to return to service on Wednesday.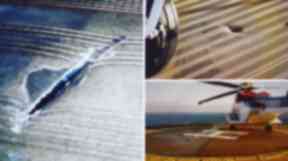 On December 28, a CHC S92 was attempting to touch down on the West Franklin oil platform when it began to respond unexpectedly to commands.
The helicopter spun and as it landed its wheels gouged the helipad, reportedly damaging the helicopter's undercarriage and the deck.
None of its 11 passengers and crew were injured and the S92 was taken back to Aberdeen by boat two days later.
The Air Accident Investigation Branch is carrying out an inquiry into the incident, focusing on potential problems with the helicopter's tail rotor.
A spokeswoman for US-based Sikorsky said: "We anticipated that the majority of the fleet would have the initial inspection accomplished within the next 24 to 48 hours of the alert service bulletin (ASB) being issued.
"Many operators have already informed us that they have completed this inspection. From that point, there is a recurring inspection on a continual basis.
"The ASB outlines guidance for operators for replacing or repairing these parts, and we are ready to support if any of these incidents arise."
Download: The STV News app is Scotland's favourite and is available for iPhone from the App store and for Android from Google Play. Download it today and continue to enjoy STV News wherever you are.