Gang blew up cash machines then escaped in sports cars
Four ATMs in Scotland were among 13 the gang targeted across the UK.
A gang blew up cash machines around the UK, stealing hundreds of thousands of pounds, before escaping in high-powered sports cars.
Seven men were convicted at Liverpool Crown Court on Wednesday, bringing a years-long police investigation to a conclusion.
The gang was responsible for 13 raids on ATMs around the UK, including four in Scotland.
The men mainly tried to obtain cash inside the ATMs by filling them with oxyacetylene gas and igniting them with a spark from a car battery.
The resulting explosions posed a danger to nearby residents, police said.
Two ATMs in Aberdeen were targeted in this way, in June and August 2015.
In early 2016, they also tried to steal money from ATMs by dragging them out of properties in Perth and Carnoustie, Angus.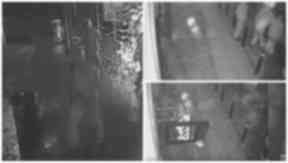 High-powered cars such as Audi RS4s, RS6s and Mercedes A45 and GLA45 AMGs were then used as getaway vehicles.
A Scania lorry was used as a base for the getaway cars, along with ramps so the cars could be quickly loaded on board and spirited away.
The authorities finally caught up with five members of the gang in February 2016.
Following the raid in Carnoustie, armed police cornered the men in a McDonald's car park in Arbroath, Angus, as they were in a stolen white Mercedes.
The gang tried to ram their way out by crashing the car into a police vehicle but the armed officers fired tyre deflating rounds into the stolen car, disabling it and enabling officers to arrest the men.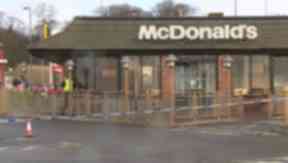 Police from the TITAN unit, which probes organised crime in the north west of England, began their investigation in December 2015.
It was discovered the gang had first began offending as early as 2014, collecting vehicles to use in the plot.
They often picked ATMs in isolated locations to minimise the chances of being caught.
On Wednesday, Andrew White, Anthony White, Nanu Miah, Anthony Conroy, Carl Cavanagh, Michael Galea and Gary Carey were found guilty of offences including conspiracy to cause explosions and conspiracy to commit burglary.
An eighth man, Scott Pearson, was found not guilty of burglary.
Detective chief superintendent Chris Green, who heads the TITAN unit, said: "This is the culmination of an extensive 12-month investigation into crimes involving thefts from Cashpoint machines across throughout the UK and a number of burglaries at residential properties.
"Given the geographical spread of these offences the investigation has been complex and extensive.
"To gather all the evidence for the conspiracy to put before the courts detectives have worked together with investigation teams from Scotland, Cheshire, Thames Valley and Gloucestershire Police."
Mr Green added: "These eight individuals believed they were untouchable and they used dangerous tactics in targeting ATM's, which clearly put members of the public at risk.
"The techniques used by the men involved in these attacks were extremely risky and we are fortunate that no-one was hurt."
The men are due to be sentenced later in April.
Download: The STV News app is Scotland's favourite and is available for iPhone from the App store and for Android from Google Play. Download it today and continue to enjoy STV News wherever you are.