Driver spared jail term after killing friend in crash
Calvin McRobb, 20, pleaded guilty to causing death by careless driving.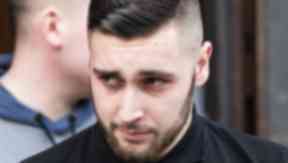 A driver who caused his friend's death by speeding on a country road has been spared a jail sentence.
Calvin McRobb, 20, passed his test two days before the incident.
He crashed into another car when he lost control of his Citroen C2 on a double bend on the A947 Dyce to Newmachar road in Aberdeenshire on March 12 last year.
McRobb was driving over the 60mph limit on his approach to the corner despite road signs warning drivers of the hazard ahead.
Medics battled for 34 hours to save the life of his 17-year-old passenger, Benjamin Waterfield, who suffered extensive injuries all over his body.
He died in hospital the following day.
McRobb, of Cove Bay, Aberdeen, previously admitted causing his friend's death by driving carelessly on the road when he appeared at Aberdeen Sheriff Court.
On Friday, he was sentenced to 200 hours of unpaid work in the community along with a six-month restriction of liberty order and a three year driving ban.
Following the hearing, his stepfather Gerard Broere, 45, said the family were horrified to find out the justice system had not moved on from when his brother Teo Broere was killed in a road crash almost 30 years ago.
He said: "Is this what a human life is worth? How are the young people that drive going to learn that there are consequences to pay. They are not going to learn from this.
"This is the second tragedy to hit our family. I lost my brother on March 3, 1988. It was my brother and Sarah's friend and the driver got a £600 fine and penalty points on his licence.
"It was a similar case involving a lorry overtaking which killed my brother. He was a passenger in the car. As far as I can tell, in 29 years there is no difference other than that in this case the driver has been tagged.
"We're very upset - and very disappointed."
Mr Broere said the family were shocked McRobb would get the chance of a new life after hearing that he had been offered a job abroad.
He said: "It is very shocking that he gets a tag for six months then gets to start a new job abroad. What does my stepson get - nothing.
"We will never have the possibility of having a grandson, he was only 17 years old."
He added: "We need to take a tougher stance. If you are caught with a knife you are put in jail and this has reduced the numbers of these crimes.
"A car is a weapon and drivers need to be responsible for who is in the car with them and if it is through stupidity and showing off then they should pay the penalty.
"A life is worth more than a six month tag and a three year ban with 200 hours of community service."
Defence lawyer David Moggach told the court McRobb felt deep remorse over causing the death of his friend.
He said: "It goes without saying that the collision on March 12, 2016, resulted in the tragic death of Benjamin Waterfield and clearly his death must be a huge loss to his family and friends and it must be very painful for them to bear.
"He accepts by way of his plea that he was in excess of the speed limit. He thought he was not exceeding the speed limit at the time of the collision.
" It was below that speed but he accepts that it was too fast for the corner."
He said McRobb would never forget the incident, adding: "He will have to live with the fact that he caused the death of his very good friend for the rest of his life, perhaps not an easy burden to carry."
Sheriff Graeme Napier said he had to take various factors into account, including the standard of the youth's driving and the fact there were warning signs on the road on the approach to the bend.
He said he also had to acknowledge McRobb's age and determine whether there was an alternative sentence other than custody.
Mr Napier imposed the maximum hours of unpaid work but discounted the number of hours due to the driver's guilty plea.
Download: The STV News app is Scotland's favourite and is available for iPhone from the App store and for Android from Google Play. Download it today and continue to enjoy STV News wherever you are.