Wildfires break out in gorse near houses in Aberdeen
Fire crews are using beaters and hose reels to bring the flames under control.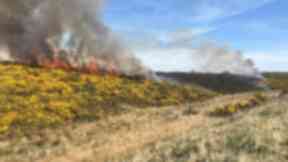 Fire crews are tackling wildfires which have broken out near houses to the west of Aberdeen.
Two separate blazes took hold in an acre of of gorse land next to Concraig Gardens, Kingswells.
The flames are nearing houses and firefighters are using hose lines to prevent them spreading further.
A fire service spokeswoman said three engines were called to the scene around 10.30am on Saturday alongside specialist wildfire units.
The crews are also using beaters to bring the blaze under control.
Police have closed a nearby road and officers said members of the public should stay away from the area.