Campaigners hit out at Shell's Brent oil field plans
WWF Scotland and Greenpeace claim the firm has not provided enough information.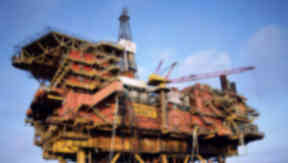 Shell's decommissioning plans for the Brent oil field have met with resistance from environmental campaigners.
The firm published 3000 pages of documents earlier this year showing how it intends to scrap the 40-year-old asset.
Shell invited feedback on its proposals in a 60-day consultation, saying it had "learned lessons" from the decommissioning of Brent Spar two decades ago.
Environmental organisations including WWF Scotland and Greenpeace have objected to the plans, claiming Shell has not provided enough information.
WWF Scotland director Lang Banks said: "Despite over 3000 pages of documentation, it has not been possible to come to a view on Shell's decommissioning proposal due to insufficient information being provided by the company across several key areas.
"Internationally agreed rules set out very clear criteria and procedures for operators to follow in carrying out such assessments but we do not believe they have not been fully adhered to in this case."
"We are therefore left with no choice but to reject Shell's plans in their current state."
'We are left with no choice but to reject Shell's plans in their current state.'

WWF Scotland direction Lang Banks
Shell intends to remove the upper section of the 30,000-tonne steel structure which supports the Brent Alpha platform, along with the upper sections of all four Brent facilities.
It wants to leave parts of the structures in place, including the concrete and steel feet of Brent Alpha.
The Marine Conservation Society, Friends of the Earth Scotland, Kimo, Whale and Dolphin Conservation, the Scottish Wildlife Trust and the RSPB have also objected to the plans.
The organisations have jointly asked Shell for more information about its proposals. Shell's 60-day consultation ends on Monday.
Brent will be the first major decommissioning project in the North Sea, a sector which could be worth more than £17bn over the next decade, according to Oil and Gas UK.
More than 100 platforms will be completely or partially removed, with around 1800 wells scheduled to be plugged and 4600 miles of pipeline to be decommissioned.
The market was reportedly worth around £2bn in 2015.
"Given the enormous size of the rigs and the iconic nature of the Brent field, its decommissioning is being watched closely, both here and globally," Mr Banks added.
"If done right, it could open the door for this country to lead a new multi-billion pound, global decommissioning industry that could create thousands of jobs as we continue our transition away from fossil fuels."
A Shell spokeswoman said: "Shell welcomes the feedback, which has been received from stakeholders and members of the public during the 60-day public consultation period for the Brent field.
"The consultation concludes today and, over the coming weeks, we will continue to review and respond to the comments received."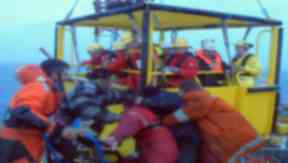 Brent was the scene of the "Battle of Brent Spar", when Greenpeace campaigners occupied a decommissioned oil storage buoy Shell intended to sink to the seabed.
They remained aboard the Brent Spar for almost a month in April and May 1995 before being bombarded with water cannons, boarded by police and evicted.
The Brent field hit peak production in 1981 and production from Brent Delta stopped in December 2011.
Both Alpha and Bravo were shut down in November 2014, with Brent Charlie expected to follow in the next few years.
Download: The STV News app is Scotland's favourite and is available for iPhone from the App store and for Android from Google Play. Download it today and continue to enjoy STV News wherever you are.