Pioneering Spirit: World's biggest ship heads to North Sea
The 400,000-tonne vessel will remove the top of iconic Brent Delta platform.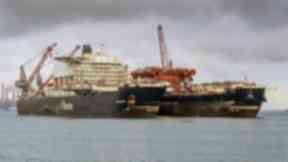 The world's biggest ship is preparing to take the top off the iconic Brent Delta oil platform in the North Sea.
Pioneering Spirit, which weighs more than 400,000 tonnes, is getting ready to sail from its current port in Rotterdam in the Netherlands to the platform, owned by oil giant Shell, based 115 miles east of Shetland.
Custom-built in South Korea for the purpose of single-lift installations and removals of large oil and gas platforms, the largest construction vessel ever built is 382m long and 124m wide.
At the bow of the twin-hulled vessel is a slot, 122m long and 59m wide, which enables it to straddle oil platforms and remove entire topsides in one attempt using eight horizontal lifting beams.
It will aim to remove a 24,200-tonne steel structure - the platform's "topside" - in what will be the heaviest single lift yet attempted.
A further two tilting lift beams located at the ship's stern are designed to lift the steel "jackets" which often support oil platforms.
The vessel began operating last year, with its first commercial job the removal of the topside of Repsol's 13,500-tonne Yme platform in the Norwegian North Sea, which set a new offshore lifting record.
It is owned by the Dutch-Swiss company Allseas, one of the biggest pipeline-laying companies in the world.
Shell has planned the Brent Delta operation as part of its huge and at times controversial project to decommission the Brent oil field.
Production in the oil field first began in 1976 and was managed by four oil platforms: Brent Alpha, Bravo, Charlie and Delta.
In the 1980s, the oil field consistently produced more than 400,000 barrels of oil equivalent a day and produced its one billionth barrel of oil in 1987.
Of the four platforms, only Charlie is still producing oil today - the other three have been shut down.
Shell is planning for Pioneering Spirit to remove Brent Delta's topside next month, after which it will be taken to the Able yard in Teesside for specialist disposal and recycling
Duncan Manning, Shell's decommissioning manager for the Brent platforms, told STV News the operation has been years in the making, including test-lifts by the vessel and preparation work to secure the underside of the Delta platform.
Speaking aboard Pioneering Spirit, he said: "We are in the final few weeks after many years of planning for this very impressive vessel to slip the port here in Rotterdam and make its way up to the northern North Sea and lift the Brent Delta platform, which we think will be the heaviest single lift ever undertaken."
Environmental groups have expressed concern at what they say is a lack of information into the operation, which they argue as a result does not clearly meet internationally-agreed criteria.
Mr Manning responded that Shell has just concluded a 60-day public consultation period and while it is keen to "iron out any concerns", the project will go ahead as planned.
After it has dismantled Delta, Shell intends to remove the topsides of all Brent installations in due course.
The North Sea decommissioning sector will be worth more than £17bn over the next decade, according to industry figures.
More than 100 platforms will be completely or partially removed across the UK, with around 1800 wells scheduled to be plugged and 4600 miles of pipeline to be decommissioned.
Pioneering Spirit: Key facts
Built: Daewoo shipyard, South Korea, 2011-2014
Crew: Ship can accommodate 571 people
Launched: Pioneering Spirit commenced offshore operations in summer 2016
Length: 382m (or the length of nearly eight Olympic swimming pools)
Width: 124m (or more than twice the wingspan of a Boeing 747 jumbo jet)
Can lift: Up to 48,000 tonnes in a single lift using eight sets of horizontal lifting beams
Crane: 5000-tonne special purpose crane to help with additional, lighter lifts
Formerly known as: Pieter Schielte, named after pioneering civil engineer Pieter Schielte Heerema, who died in 1981. However, the original naming of the vessel caused a storm of controversy, as the late Mr Heerema was also a Dutch officer in the Waffen-SS during the Second World War.
Download: The STV News app is Scotland's favourite and is available for iPhone from the App store and for Android from Google Play. Download it today and continue to enjoy STV News wherever you are.