'Weak financial management' at college is criticised
Audit Scotland said a recovery plan was needed as a matter of urgency.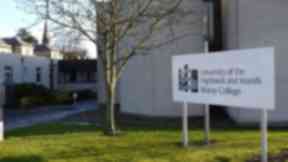 "Weak financial management" at a Scottish college has been criticised by auditors, who have called for an "urgent" recovery plan.
Moray College, which is an independent institutions managed by the University of the Highlands and Islands (UHI), forecasts a £472,000 deficit this year and shortfalls until 2019.
The Elgin-based college is not in a sustainable financial position, said Scotland's auditor general Caroline Gardner.
Audit Scotland published reports on three Scottish colleges on Friday.
Edinburgh College and Lews Castle College, which is also part of UHI, were also told to take steps to tighten up their finances.
Ms Gardner said: "These colleges play an important role in their communities, delivering education for thousands of students every year and providing hundreds of jobs.
"They are also heavily reliant on public funding which can have major implications for how they manage their finances.
"Each college faces different issues but all need to take steps now to get on a firmer financial footing and strengthen their governance arrangements."
Moray College was found to have "weak financial planning and management arrangements".
High staff costs were blamed for much of the issues, with staff spending taking up 72% of its budget, compared to an average of 63% for Scottish colleges.
The college has more than 4,000 students and a total income of £12.1m.
An "urgent" plan with the Scottish Funding Council (SFC), which funds colleges, was said to be needed.
The auditor's report said: "Moray College will continue to face financial difficulties without fundamental changes to its costs and financial management arrangements.
"The college is taking steps to address its financial difficulties but as yet has to agree its recovery plan with the SFC.
"The organisations need to agree actions as a matter of urgency."
Responding, a spokeswoman for Moray College said it was liaising with Audit Scotland.
She said: "Similar to many colleges and universities in the sector, Moray College UHI is facing financial challenges and has developed a robust plan in response to these challenges.
"The board and management of the college welcome this public scrutiny and have been working with staff to ensure the college operates within a sound financial framework.''
A UHI spokeswoman said: "We take our governance responsibilities very seriously and will continue to work closely with Moray College UHI and the Scottish Funding Council to address the issues raised and implement robust solutions."
In its report on Edinburgh College, Audit Scotland noted that improvements had been made but its financial position "remains challenging".
During the 2015/16 year it posted an 11% deficit of £7m.
The college's principal Annette Bruton said: "We welcome the auditor's report and their recognition that the significant progress we've made is setting the college in the right direction.
"Since we identified the issues outlined in the report, we've worked hard on the changes needed to make sure our college is in the correct shape to succeed."