Sex offender terrified two women in stalking campaign
Deivydas Metrikis sent for psychiatric assessment after offences committed while on register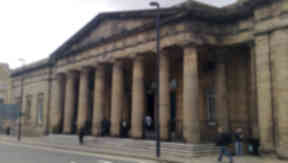 A convicted sex-offender terrified two women during a six-month stalking campaign.
Deivydas Metrikis was already on the sex-offenders' register when he started following, harassing and staring at the women.
The 26-year-old Lithuanian, who lives in Perth, regularly trailed one of the women through a local park.
He also turned up at their workplaces to stare at them for hours on end and tracked down one of them on social media.
Metrikis was remanded to a psychiatric hospital for assessment after being found guilty of stalking by a jury at Perth Sheriff Court on Monday.
During his trial, the court was told that he was already on the sex offenders' register and was considered a danger to women at the time of the offences, which took place between July 2016 and January this year.
His first victim told the jury he had started following her while she was doing a daily workout in a Perth park and regularly followed her through the city streets.
He would turn up night after night at her workplace and stand across the road staring in the window.
She became so concerned she asked colleagues to accompany her when she left for the night and called her mother to let her know where she was at all times.
She said: "I was terrified by this point."
Metrikis started coming into her workplace, asking about her and a job vacancy. He finally found her on Facebook and messaged her.
He also began tracking a second woman and subjected her to a similar course of harassment.
The woman, a hotel receptionist, said Metrikis would come into the building and sit staring at her for hours.
She said he would sit at the bar but only ever order a single glass of water while peering at her while she tried to get on with her work.
She said: "I don't think I ever acted like I was interested. On at least one occasion I was deliberately rude to him, thinking that he would go away, but he kept coming back."
After a four-day trial, Metrikis was found guilty of stalking the first woman in Perth between July 1, 2016, and January 9 this year and of stalking the second woman in December last year.
Download: The STV News app is Scotland's favourite and is available for iPhone from the App store and for Android from Google Play. Download it today and continue to enjoy STV News wherever you are.