Gecko shredded in blender by two men at house party
Daniel Innes and Jordan McIsaac ran riot in home as teenage boy slept upstairs.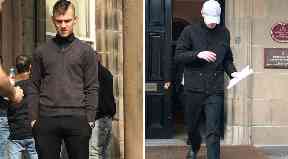 Two men killed a family's pet gecko by shredding it in a blender during a house party.
Daniel Innes and Jordan McIsaac lifted the lizard out of its cage and put it into a kitchen blender as the householder's teenage son, who invited them to the party, slept upstairs.
The pair also killed a second gecko, hurled food everywhere, smashed doors, plates and a laptop and urinated on a bed.
Thousands of pounds worth of damage to the house was also caused by 20-year-old Innes, who tore out light fittings and started a fire in the sitting room.
The pair filmed the crime on the sleeping boy's phone.
The teenager's mother came home early from a weekend trip to find the scene of devastation in her home in Aberchirder, Aberdeenshire.
Sheriff Philip Mann said that the "chillingly evil" crime was one of the most difficult he had dealt with and added it was "a matter of great concern".
Innes and 18-year-old McIsaac were due to be dealt with at Banff Sheriff Court on Tuesday after admitting to the charges in May.
Mr Mann deferred sentence for a further three months for the men to show good behaviour and they were "truly remorseful".
He told the pair to contact the Scottish SPCA animal welfare charity to ask if there was anything they could do to make amends for their behaviour.
Mr Mann said if they returned to court with a positive letter from the charity he would refrain from sending them to jail.