Man jumps from shopping centre top floor to evade police
The 20-year-old tried to hop away from officers after injuring himself in the fall.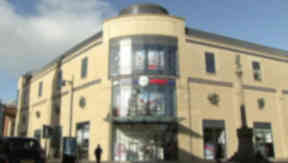 A man attempted to run away from police by launching himself off the top floor of a shopping centre.
The incident happened at the Overgate in Dundee on Wednesday.
Two men wanted in connection with offences were spotted by officers in the shopping centre.
A man, 20, then ran away and jumped off the top floor, landing at the bottom and narrowly missing a person.
He then suffered a leg injury and is understood to have hopped out of the centre before being arrested by police.
The other man, 50, was also arrested.
A Police Scotland spokesman said: "Two men who Police Scotland wished to speak to regarding outstanding crimes were seen in the Overgate Shopping Centre today at 10.10am.
"One of the men sustained a leg injury and the other man has been detained."
The incidents were not related to shoplifting.