Man dies after getting into difficulty in harbour swim
Emergency services were called to Macduff harbour in Aberdeenshire at 5pm on Tuesday.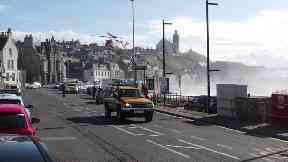 A man has died after getting into difficulty while swimming in a harbour.
Emergency services were called to Macduff Harbour in Aberdeenshire on Tuesday at 5pm after a man experienced breathing difficulties in the water.
He was taken to Aberdeen Royal Infirmary by coastguard helicopter but later died.
A 15-year-old boy, who was understood to have been fishing, got into the water after noticing the man was floating face down and not breathing properly.
His friends helped by throwing the 41-year-old man a life ring and pulled him to dry land.
It is understood the man jumped into the harbour to go for a swim before getting into difficulty.
Chief inspector Neil McDonald said: "Our thoughts are with his family at this very difficult time. Extensive enquiries have been carried out and we are content there are no suspicious circumstances."
He added: "I would like to take this opportunity to publicly acknowledge efforts of the members of the public, in particular some youngsters, who assisted in rescuing the man from the water when it became clear he was in difficulty.
"We would always encourage people to follow water safety advice in rescue situations but regardless this was an extremely brave effort which should rightly be recognised."