BrewDog loses trademark battle over Elvis-branded beer
The Ellon-based craft beer maker produces a citrus beer called 'Elvis Juice'.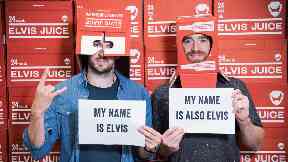 BrewDog has lost a legal battle with the estate of rock 'n' roll legend Elvis Presley.
The Ellon-based brewer got into a dispute with the late singer's legal team over its "Elvis Juice" beer.
BrewDog, which owns a trademark on the word "punk" and took action against a bar which used it in its branding, accused them of "trying to make a fast buck... under the guise of copyright infringement."
In response, founders James Watt and Martin Dickie legally changed their names to Elvis.
The Intellectual Property Office (IPO) was asked to intervene and has now issued a ruling saying BrewDog can no longer use the name Elvis Juice.
The IPO said Elvis Presley was an "iconic figure", the "most famous of Elvises" and concluded that consumers were likely to be confused by the name.
BrewDog, which reported £2m in turnover from the sales of Elvis Juice between 2015 and 2016, will have to pay Mr Presley's representatives £1500 to cover their costs.
The King died in 1977 but his estate continues to earn millions each year selling Elvis-branded merchandise.