Woman sexually assaulted on walk along old railway line
The 28-year-old was attacked on the path near Harefield Road in Dundee.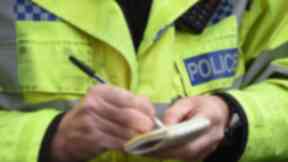 A woman was sexually assaulted as she walked along a path in Dundee.
The 28-year-old was approached by a man who knocked into her before assaulting her on a disused railway line now used as path near Harefield Road.
She was shocked but unhurt by the incident, which happened at the Miley at about 3.50pm on Wednesday, Police Scotland said.
The attacker is described as between 17 and 25, 5ft 10in and stocky with broad shoulders.
He had no clothing on his top half and a red top tied around his waist. He was wearing dark tracksuit bottoms, white trainers and a two-tone baseball cap.
Officers are also keen to speak to a cyclist who was in the area.
A Police Scotland spokesman said: "Officers are keen to trace a woman who was in the area at the time.
"She was on a bicycle and is described as in her 60s, with long grey/silver coloured hair, tied back in a long braid. Her bike is described as being green in colour.
"We would appeal to this woman to come forward."
Anyone with information should contact Police Scotland on 101.