Hooligans with iron bars attack Aberdeen fans in Bosnia
Gang with bats threw flares at fans in Mostar, Bosnia, ahead of Europa League tie.
Masked football hooligans carrying iron bars and baseball bats have attacked Aberdeen fans in a pub ahead of their Europa League match in Bosnia.
The gang also threw flares into the Black Dog Bar in Old Town, Mostar, in an attack on around 50 Dons fans.
At least two Aberdeen supporters were taken to hospital following the assault.
Dons fan Neil Harper suffered a serious head injury in the attack.
The hooligans are understood to be associated with HSK Zrinjski Mostar, who drew 1-1 with Maribor on Wednesday.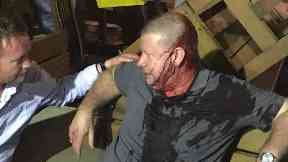 Speaking to STV News, a witness said: "It was the most chilled and relaxed evening. Then all of a sudden, this mob just appeared.
"The man badly injured was sitting near to the front door of the bar. There were flares going off in the bar, too.
"The locals were saying the hooligans were from the team who played Maribor and not the side they are facing in the Europa League."
The unprovoked attack led to a huge police presence in the city ahead of the team's Europa League qualifier with Siroki Brijeg, about 14 miles away.
A statement from the Bosnian club said: "Siroki Brijeg football club strongly condemns the hooligan attack on fans Aberdeen which took place late last night in the area of the Old City of Mostar."
Around 200 Aberdeen fans are in Bosnia ahead of the Europa League second qualifying round second leg.
A Black Dog Pub spokesman said: "All of us at the Black Dog Pub offer our sincerest apologies to the people who were attacked this evening in front of the pub.
"This was a football rivalry related incident and is not normal in the old city of Mostar."