Trump blasts golf resort 'village idiot'
Donald Trump has launched a scathing attack on defiant Menie Estate landowner Michael Forbes, calling him a 'loser' and a 'village idiot'.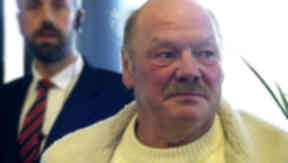 Donald Trump launched a scathing attack on a defiant landowner standing in the way of the tycoon's £1billion golf resort.
The American billionaire branded farmer Michael Forbes a "loser" and compared his property to "a slum".
The blast came after Forbes' 84-year-old mother, Molly Forbes, filed a legal challenge over the decision to grant planning permission on five 'parcels' of land.
Mr Trump called Mr Forbes a "village idiot" and described his property as a "disgusting blight on the community" and an "environmental hazard".
 
Molly Forbes, who lives in a static home next to her son's house on the Menie Estate, filed an interim interdict at the Court of Session in Edinburgh on Monday to halt work at the 1400-acre golf resort.
Papers lodged with the court claim Aberdeenshire Council did not determine the planning applications correctly, and that Trump International Golf Links Scotland did not give enough information about why it now needs the land.
In a statement, released through Environmental Law Centre Scotland, Mrs Forbes said: "Mr Trump has been granted planning permission to demolish my home, but I do not wish to sell, and I do not wish to be forced out. My legal team will argue that Aberdeenshire Council have failed to follow correct procedures, and that the permissions granted therefore cannot stand."
Mrs Forbes, who has lived in her home on the Menie Estate for six years, added: "I never expected in my life to face eviction from my home, let alone for a golf course."
However, hours later, Mr Trump delivered a venomous attack on Michael Forbes, accusing him of "exploiting" his mother.
Speaking from New York, the billionaire blasted: "It is tragic that an elderly woman is being exploited to further the personal vendetta of Michael Forbes and his few supporters.
"Over the years, my representatives and I have often seen Mr. Forbes and he has always been dirty, sloppy and unkempt in his personal appearance and demeanour. 
"While he is a terrible representative for Scotland, whenever the cameras are rolling, he parades in front of the press looking groomed and wearing a kilt - he truly enjoys the attention that he would have never received without Donald Trump. 
"In a recent television interview that was broadcast in the United States, Mr. Forbes made Scotland and its people look terrible.  He is a loser who is seriously damaging the image of both Aberdeenshire and his great country. 
"His property is a disgusting blight on the community and an environmental hazard, with leaking oil containers, rusted shacks and abandoned vehicles dumped everywhere.
"Instead of wasting the court's resources, he should spend time cleaning up his land so it does not look like a slum - and a low level slum at that!  Perhaps he thinks that by creating an 'eyesore' I will pay more for his land."
Mr Trump went on to say that the claims made against his project were "misguided and not based upon fact".
He added: "We will not be distracted by the rants of the local village idiot and intend to vigorously defend any challenge to our project."
The Trump Organisation began initial earth works and the planting of marram grass at the Aberdeenshire site last month.