Police car crashes as 'escaped prisoner' detained
Lee Hipson, 24, was found ten miles away from where he was reported missing.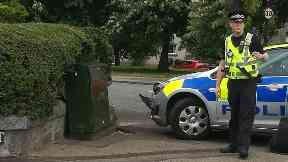 A prisoner who allegedly fought off security to escape from hospital has been detained.
Lee Hipson was found in Newtonhill, Aberdeenshire, at around 2pm on Friday.
He was reported missing at 12.20am from Aberdeen Royal Infirmary, ten miles away.
A police car crashed on Cornhill Terrace in Aberdeen in an incident believed to be linked to Hipson's disappearance.
Officers pursued a car following reports of a sighting of the prisoner at around the same time he was found.
Chief inspector Kevin Wallace said: "I would like to thank the members of the public who assisted officers with this enquiry and for sharing our appeal."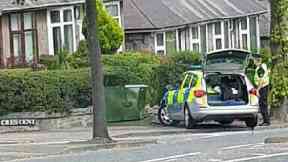 A Police Scotland spokeswoman added: "We received a report of a potential sighting of missing prisoner Lee Hipson in the Cornhill area this afternoon.
"During the response a collision occurred between a marked police vehicle and one other car. Enquiries are ongoing."