Man injured as car lands on side and blocks the A9
The crash at Broxden Roundabout in Perth has caused disruption for rush hour motorists.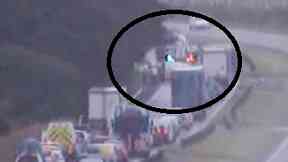 A man has been injured after his car landed on its side during a crash on the A9.
The incident happened at the Broxden Roundabout in Perth at around 4.20pm on Friday.
The crash left one lane of the road blocked northbound, causing lengthy tailbacks.
A Police Scotland spokesman said: "We received a call at 4.20pm about a vehicle on its side.
"There was one male casualty, who was conscious and breathing."