Biggest earthquake in 30 years hits Highlands
An earthquake measuring 3.8 on the richter scale was recorded on Friday afternoon.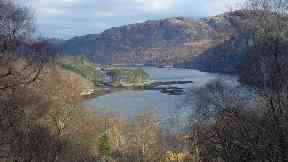 The biggest earthquake to hit the Highlands in 30 years left locals shaken on Friday.
The British Geological Survey recorded the quake at 3.45pm, centred on Moidart, Lochaber.
Tremors from earthquake, which registered at 3.8 on the richter scale, were felt across the west of Scotland.
It is the biggest to hit the area since a 4.1 quake near Oban in September 1986.
People in the area shared their experiences on Twitter, with one saying: "Just experienced two earthquake tremors here in Scotland.
"Never felt anything like that, like the ground beneath us was exploding. Terrifying!"