Scottish grouse estates 'contribute £23m to economy'
The figures were released as gamekeepers took part in a pro-shooting march.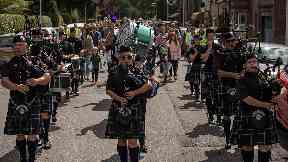 Grouse estates in Scotland contributed more than £23m to the economy last year, it is claimed.
Forty-five estates were included in a new study by seven gamekeepers' organisations, which found they were worth an average of £514,886.
The figures were released as gamekeepers took part in a march in Edzell, Angus, to highlight the value of Scotland's grouse estates.
The shooting season gets underway each year on the "Glorious Twelfth" of August and continues until December.
Lianne MacLennan of Scotland's regional moorland groups said: "Grouse shooting attracts criticism in some quarters but the survey tells the story of the value of country sports to smaller rural communities."
Meanwhile, the League Against Cruel Sports has stepped up its calls for a ban on grouse shooting.
Director Robbie Marsland said: "The annual celebration of the start of the grouse shooting season is a ridiculous tradition which has long had its day.
"The Glorious Twelfth is a poor attempt to justify a bloodsport which is responsible for the mass killing of wildlife on an industrial scale as well as irreversible damage to the environment."
A study by the Game and Wildlife Conservation Trust in 2010 estimated that grouse shooting estates around £15.6m a year to the economy.