Pilot whale put down after getting stranded on beach
The female beached on a shore at North Kessock near Inverness on Monday morning.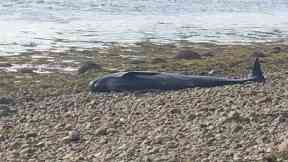 A female pilot whale was put down after becoming stranded on a beach near Inverness.
The 14ft-long mammal beached at North Kessock on the Black Isle on Monday morning.
Teams from the British Divers Marine Life Rescue and Scottish Marine Animal Stranding Team worked together to see if refloating the whale were possible.
Marine experts say the creature appeared to be underweight and had been beached for some time
Due to a pod of pilot whales are nearby, experts feared they would end up beached if they brought the female whale back into the water.