Battle of Bannockburn and Culloden names trademarked
The National Trust for Scotland has also claimed Glenfinnan, St Kilda and Soldier's Leap.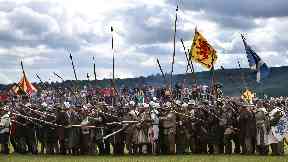 The National Trust for Scotland (NTS) has trademarked the name of the Battle of Bannockburn, it has emerged.
The charity has also claimed the rights to the names of St Kilda, Glenfinnan, Culloden, Glencoe and Soldier's Leap.
The trust says it holds the trademarks to protect them from exploitation.
It has faced controversy since threatening legal action against a small clothing firm which makes Glencoe-branded jackets.
Hilltrek has been using the name for almost 30 years, while the NTS only registered its trademark in 2015.
Owner David Shand accused the organisation of using "bullying" tactics to get its way.
"Over the last 30 years we have named our outdoor clothing after iconic Scottish landscapes," he said.
"The names are a celebration of the fantastic natural scenery around us in Scotland.
"It seems incredulous that we could be so aggressively accused of copyright infringement for a product that has been in existence for so long."
The NTS has taken similar action around half a dozen times against companies based in England and France.
"Our only desire is to protect the properties in our care and stop them being exploited in ways which do not accord with our charitable purposes," a spokeswoman said.
Most of the cases were about Glencoe but one related to the Battle of Bannockburn, where the Scots won a major victory in the First War of Scottish Independence.
The trust took out its first trademark on St Kilda after another organisation tried to claim it.
"Under UK law, it's currently possible for third parties with no connection to the area to register these trademarks," the NTS added.
"We discovered this when an application by another organisation was made to secure this for St Kilda and the Intellectual Property Office confirmed the bid was both legal and permissible, even after appeal.
"To protect other places from potential exploitation, the Trust identified some properties which we felt were at risk of similar applications due to their iconic nature.
"From the outset we were clear that established and new businesses trading locally to our registered properties would not be affected and we have kept that promise."
The NTS has said it wants to find a "mutually agreeable solution" with Hilltrek.
Mr Shand said: "Whatever their objectives are we are clear that we will continue to use the name Glencoe.
"This whole affair has been damaging to the NTS, an organisation who we support in their efforts to conserve Scotland's heritage and landscape."
Mr Shand has urged people to continue to support the NTS regardless.