Fresh demands for emergency tug after oil rig crash
The Ievoli Black has been Scotland's only emergency towing vessel since 2016.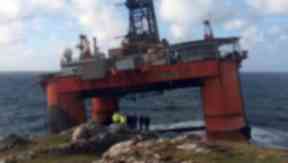 Fresh calls are being made for a emergency tug based in the Hebrides one year after the grounding of a 17,000-tonne oil rig in the islands.
The Orkney-based Ievoli Black has been Scotland's only emergency towing vessel (ETV) since the Stornoway tug was scrapped six years ago.
Hopes had been raised for the return of a second ETV after the Transocean Winner washed up on the Isle of Lewis during a storm in August 2016.
The Maritime and Coastguard (MCA) agency ruled out any chance of a reversal, however, and Western Isles Council is now leading renewed calls for a second ETV.
Convener Norman Macdonald said: "The council is still of the view that a second ETV is required for the north and west of Scotland and we will continue to make the case for that.
"The ETV that is based around Orkney is now transiting into the the Minches and also north to Shetland.
"It is certainly more mobile than previously and that is to be welcomed but the solution is to have a second ETV through the Minches and to allow the one that is based in Orkney to work within Orkney and Shetland."
A spokeswoman for the MCA said it is not legally obligated to provide salvaging services.
"It is for ship owners and operators to manage their own risks and arrange towing and salvage using commercial providers," it said.
"However, it is recognised that it's important to ensure shipping activities off the coast of Scotland remain safe and that sufficient safeguards, such as search and rescue and commercial towage vessels, are in place, in case of a maritime incident.
"The government is presently funding an emergency towing vessel for the north of Scotland until December 2021."