Stranded sailors owed more than £668,000 in unpaid wages
Sheriff rules crew have right to sell Malaviya Seven, which is detained in Aberdeen.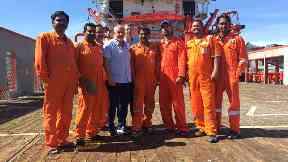 Indian sailors stranded in Scotland are a step closer to home after a court ruled they are due a share of £668,000 in unpaid wages.
The 11-man crew of the Malaviya Seven have not been paid in a year and the ship has been barred from leaving Aberdeen since October.
Many of them have not seen their families for even longer and several have been forced to take out loans to provide for their loved ones.
At a hearing in Aberdeen on Thursday, a sheriff ruled the crew have the right to sell the ship and recoup their wages.
Thirty-four past and present members of the crew are owed more than $868,000, including 11 currently on board.
Lawyers for owners Union Bank of India say they will not try to stop the sale, but the crew has been forced to agree to forfeit any future wages.
'When my daughter asks my wife 'when is papa coming?' is it really painful for me.'

Chief officer Bamabev Swain
Speaking ahead of the hearing, chief officer Bamadev Swain said: "We have been praying to the almighty that he should have mercy on us.
"We have suffered enough, my family and all our families back in India have been having a very rough time financially."
Mr Swain said his family had been forced to arrange several high interest loans to cover their debts.
"I have had a very unpleasant and miserable time," he said. "I'm very sad inside because my wife never thought she would have to face these problems.
"We've taken loans with very high rates of interest. All the [money] she had saved is gone.
"When my daughter asks my wife 'when is papa coming?' it is really painful for me."
The crew have been supported by local charities and churches during their time in Scotland and were taken in by the city's Catholic community at Christmas.
The Malaviya was detained twice last year over unpaid wages. It was first held in June after being contracted to a UK oil company.
The crew was eventually paid and the ship was released but it returned to Aberdeen two months later and was detained on identical charges.
Foreign sailors working in the North Sea were owed more than £1m in unpaid wages last year alone, according to the International Transport Workers' Federation (ITF).
Following the ruling, ITF UK and Ireland coordinator Ken Fleming said: "It's an absolute scandal and we can't turn around and describe it as a victory. It's an end to a scandal.
"We've moved to a point now where we can see the finish line."
The Malaviya Twenty was detained at the same time as the Malaviya Seven in Great Yarmouth. She was officially arrested in December the crew returned home in February after being paid.
The Seven will now be valued and there will be a second hearing to arrange its sale.