Father killed by teenage motorist as he crossed road
Shari Dunbar caused the death of Nuno Barbara by dangerous driving in Fraserburgh.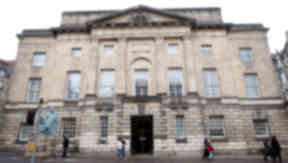 A teenage motorist has been convicted of causing the death of a man by dangerous driving.
Shari Dunbar, 19, struck Nuno Barbara as he crossed the road at Castle Street in Fraserburgh, Aberdeenshire, on September 3, 2015.
The High Court in Edinburgh heard that moments before the collision, Dunbar, who passed her test a few months earlier, was driving around the town at excessive speeds for the road conditions.
She failed to observe give way markings at the junction of Bath Street and Castle Street.
The court heard how she also failed to slow her car down to a speed appropriate for negotiating the junction and failed to keep control of her Seat Ibiza.
She then struck Mr Barbara, 45, who came to Scotland from Portugal to take a job at a fish factory in Fraserburgh.
He died from head and chest injuries four days later at Aberdeen Royal Infirmary.
On Thursday afternoon, a jury took three hours to return a guilty verdict to a charge of causing death by dangerous driving against Dunbar.
At the start of proceedings on Monday she tried to plead guilty to a reduced charge of causing death by careless driving but prosecutors deemed the plea "unacceptable."
'Mrs Barbara is now a widow who has bring up the family by herself.'

Iain McSporran QC
Following the verdict, prosecution lawyer Iain McSporran QC told the court Mr Barbara's widow is now raising her four children by herself.
He said Mr Barbara came to Scotland looking for work and his family followed him to Fraserburgh in 2015.
"They were settling into life in Scotland and they were making plans for their lives here," Mr McSporran said.
"His children were attending school and his other children were going to attend college. However, these plans no longer exist.
"Mrs Barbara is now a widow who has bring up the family by herself."
Dunbar's lawyer Derick Nelson told the court his client was aware of what could happen to her.
The advocate told Lord Kinclaven: "She is aware that all sentencing options are available.
"She is in full employment - she works as a home carer. She normally stays at home with her parents."
Dunbar will be sentenced at the High Court in Livingston on September 7, 2017.