Online updates scheme for neonatal babies
The University of Aberdeen are trialling a new scheme to inform adults of their baby's progress in plain english.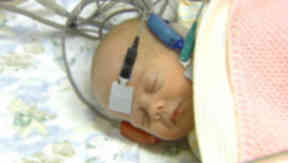 Parents of ill or premature newborn babies could receive online updates of their child using a new programme developed at a Scottish university.
Volunteers are being sought to trial the service which has been developed at the University of Aberdeen.
The computer system, which is called BabyTalk, generates easy to understand reports on the medical condition of babies in neonatal care.
The reports are updated every 24 hours and made available online to the infant's parents, providing a simple summary of their child's progress.
The system can produce two types of text for parents – one which accounts for them undergoing high levels of stress, and one which does not. 
Concerned family and friends can also be updated on behalf of the parents, allowing them to share all or part of the summary of their baby's condition.
Saad Mahamood from the University of Aberdeen's Department of Computing said: "When a baby is in a Neonatal Intensive Care or a Special Care Baby Unit it can be hard for parents to take in all of the complicated medical information and the treatment that their baby is being given.
"Our new computer system will produce secure automatic online updates about the baby so that parents can get news day and night, even when they are away from the ward.
"The text produced by the system is personalised to the baby's condition and tailored to take into account whether the parents will be experiencing stressful or less stressful circumstances. 
Whilst this does not replace talking to medical staff it does provide an extra source of information and support for the parents, helping to decrease their anxiety."
Researchers are looking for parents from the North East of Scotland, Tayside and Fife that have had a baby in neonatal care in the last ten years, to try out the system.
Volunteers will be asked to look at a range of short text reports about babies in neonatal care and discuss how they feel on reading those reports. 
Wendy Moncur, who is also part of the research team working on the study, has personal experience of having a sick newborn baby. Her son James, who is now 11 years old, developed pneumonia soon after birth. 
Wendy said: "Very soon after James was born, he developed pneumonia. This led to him spending 5 days in a Special Care Baby Unit. I understand from first hand experience what a scary time it is when your child is in neonatal care.
"We are looking for volunteers who have had personal experience of a baby in neonatal care to try out our system. They don't need to know anything about computers to take part. The study is an opportunity to have input into technology which could improve the experience of parents whose babies are admitted into neonatal care in the future."
Volunteers wishing to take part can find more information at the university's website.