Cattle slaughtered after bovine TB outbreak on Skye
The disease can spread to humans through infected meat and dairy products.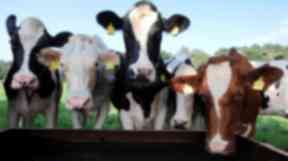 Cattle on Skye have been slaughtered after testing positive for bovine TB, a disease that can spread to humans.
Infected animals are usually destroyed to prevent its transmission and the disease can have a devastating impact on farming.
Fears were recently raised that bovine TB could spread to Scotland after it was discovered in badgers in Cumbria.
It can pass to humans through contact, although the risk is very low and the disease can be treated.
Bovine TB causes fever, weight loss and a persistent cough in humans and can also be transmitted through the consumption of unpasteurised dairy products and meat.
The farmer which the cows belonged to, who has not been identified, released a statement through the National Farmers Union (NFU) on Thursday.
"This is an extremely worrying and very difficult time for me," he said. "The cattle that tested positive on the farm have been slaughtered and further laboratory tests are now underway to see if they have TB.
"Waiting for those results is very stressful but I want to get to the bottom of this, get my herd restrictions lifted and get my TB-free status back as quickly as possible and I will work with the authorities to do that."
A spokesman for NFU Scotland said they were working with the farmer at what they called a "terrible time".
A Scottish Government Spokesperson added: "An outbreak of bovine TB has been confirmed in a herd of cattle on Skye.
"The infected herd is currently under restriction whilst further testing is undertaken.
"The source of the infection is under investigation."
It is unclear how many cattle have been infected and the Scottish Government has not revealed when the disease was discovered.
Cattle in eleven herds were diagnosed with bovine TB last year but but the country is still technically TB free as fewer than 0.1% of all herds have been affected each year for the last six years.
Scottish beef exports were recently declared officially clear of BSE. An outbreak of "mad cow disease" in the mid-1990s caused major disruption to the farming industry.