Missing Scouts tracked down by helicopter in Cairngorms
The group of eight boys took refuge in a bothy and asked: 'Are we in trouble?'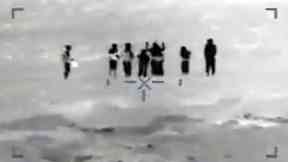 A group of eight missing Scouts have been rescued by helicopter in the Cairngorms.
They were reported overdue after going on a seven-mile hike from their camp at Sluggan Bridge.
A coastguard helicopter was scrambled and found the boys taking refuge in a bothy at 9pm on Thursday.
The boys, aged between 11 and 14, used their scouting knowledge to start a fire and keep warm as darkness fell.
They attracted the attention of the helicopter by flashing torches and waving clothing.
Coastguard captain Simon Hammock said: "We landed next to the bothy and as our winchman Jon approached the group and one of the smallest asked: 'Can we have a lift?' And then quickly followed up with: 'Are we in trouble?'
"He was able to put their minds at rest and when we returned them to their camp they were met with open arms by the other Cubs and Scouts."
"A great result," he added.
Inspector Mike Middlehurst, from Police Scotland, said the group were well equipped with maps, food and water.
"Thankfully they did the right thing by seeking shelter in the bothy which helped with finding them," he said.
The boys were not harmed by their misadventure, a spokesman for the Scouts said.
He added: "There were no injuries and the young people used their Scout skills to remain warm and dry whilst waiting for help.

"The young people are now continuing to enjoy the rest of their camp."