Outlander star backs bid to break ceilidh world record
Sam Heughan has tweeted his support of the record attempt at Castle Fraser.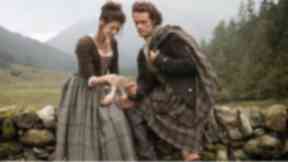 Outlander star Sam Heughan is backing a bid to break a world record for a ceilidh dance.
The National Trust for Scotland is hoping to have the biggest version of strip the willow in Castle Fraser, Aberdeenshire.
The current record is held by Edinburgh, where 1914 dancers welcomed the new millennium.
Staff for the trust hope at least 2000 people will turn up to the event, which is being held on Saturday.
Outlander actor Sam Heughan, who plays Jamie Fraser in the hit series, has backed the castle's bid, sharing details with his 361,000 Twitter followers.
Property manager and event organiser Paula Swan says: "The response we've had so far has been fantastic but we want to be sure that as many people as possible join us in this fun and frenetic attempt to put the castle, and Aberdeenshire, on the world-recording breaking map.
"You don't have to be a dancer or know anything about Strip the Willow as there will be a walk-through beforehand.
"The record attempt will only take a matter of minutes and it will go ahead regardless of the weather so we ask that everyone turns up with appropriate footwear - as this on a grass field at the castle, walking boots and wellies will be fine."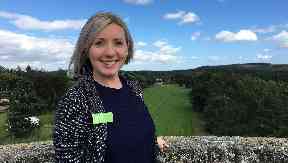 The highly energetic social dance has been a long-time favourite birl at ceilidhs, weddings and functions across the country.
Its name is thought to reflect the comparison of the dance to the stripping the bark from a willow branch, in that it curls round and round rather than coming off straight.
Anyone aged ten and over is welcome to join in and should simply turn up on the day and register from noon to 1.30pm.
The record attempt will be at 2pm, with music supplied by ceilidh band Iron Broo.
There will be plenty to see and do, with a food marquee, bouncy castle, dancing demonstrations, pipe band and fiddler.
The castle, cafe and shop will be open.