'Despicable' wedding planner jailed for £130,000 scam
Gambling addict Craig Williamson went on the run to Ibiza after pocketing the cash.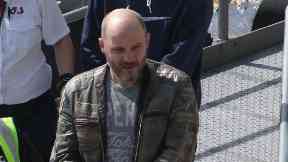 A wedding planner who scammed £130,000 from dozens of couples has been jailed.
Craig Williamson was sentenced to two and a half years in prison at Dundee Sheriff Court on Wednesday following the incidents at Guthrie Castle in Angus.
The 42-year-old gambling addict went on the run to Ibiza after spending up to £5000 a day on his habit with cash taken from couples due to be wed at the castle.
Multi-millionaire owner of the Angus venue, Dan Pena, has spent tens of thousands of pounds covering refunds and bookings.
Dundee Sheriff Court heard how bride Alice Cannon found her wedding, for which she had handed over nearly £19,000 to Williamson, was not on the books with Guthrie Castle staff only a week before her big day.
It went ahead after Mr Pena met the cost from his own pocket. A sheriff told Williamson he was guilty of a "despicable crime".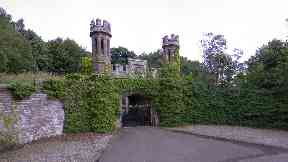 Megan McNamee also found her big day was triple booked for a date in July, forcing her to reschedule for later in the year, again with Mr Pena meeting the cost.
The mother of a third bride, Kayleigh Ferguson, handed almost £19,000 to Williamson for a wedding scheduled for June having booked more than 18 months in advance.
But again there was no record with the castle and Williamson vanished with the money. Her wedding went ahead with the castle's owner paying for it.
Fiscal depute Eilidh Robertson told the court that brides had been left "upset and stressed" with one telling police she did not sleep for a week with worry while another said: "The situation has put a strain on our relationship."
Miss Robertson said: "The accused was hired as a Castle and Estate Manager in November 2014 and was in charge of all events held on the estate.
"In early April 2017 he told colleagues he was going to visit his father in Glasgow who was unwell.
"Over the next weeks his colleagues did not hear from him and he did not answer repeated phone calls. Police were contacted on April 7.
"Shortly after, a director of the company and the wife of the castle owner decided to access his email account remotely.
"They found emails sent from witness Alice Cannon about her forthcoming wedding due to take place on April 14-15.
"This alarmed them as they and other members of staff had no knowledge of any such wedding booking which was now just a week away."
"The situation has put a strain on our relationship."

Bride at Guthrie Castle
"A missing person's enquiry was launched and it was established he had withdrawn £6,000 in cash on April 4 and boarded a Eurostar to Paris that day before travelling to Ibiza on April 25.
"It was also established he was spending at least several hundred pounds a week gambling, on some days spending £5000 on gambling alone.
"It was established the accused had been taking bookings for weddings from various brides and grooms to be without informing anyone else at the venue that the bookings had been made or carrying out any preparations for the events, such as arranging staff, catering, etc.
"The accused had given the brides and grooms to be his own bank account details and the sums were transferred by them directly into his account as opposed to the castle's business account.
"The accused had taken bookings and payments for some weddings that had gone ahead, with payments being made directly into his personal bank account or by cheque payable to him.
"In total, 39 bridal parties had paid a total of around £130,000 to the accused."
She added: "Some of these weddings had gone ahead as planned, with the accused keeping the funds paid by the bridal party himself.
"Some of the weddings were in the future, with the accused having kept either just the initial deposit or the initial deposit plus later payments.
"Some of weddings in the future had in fact been double booked for the same day.
"As of now not all of the bridal parties have been identified, partly as no paperwork can be found which relates to their bookings and partly as some of the bridal parties are based abroad.
"Mr Pena made the decision not accept any bookings for weddings at the venue after December 2017 and has refunded some customers from his own pocket.
"He has also met the cost of some of the bookings made by the accused to prospective brides and honoured their bookings, allowing the weddings to go ahead notwithstanding that he received no payment for them as the accused had pocketed the sums from the bookings himself.
"Mr Pena has been liable for all staff and catering costs of the weddings that he has honoured.
"He told police that he may require to file his company as bankrupt in the future to meet all payments."
"Some of weddings in the future had in fact been double booked for the same day."

Fiscal depute Eilidh Robertson
The court heard Williamson handed himself in to police in Dundee on May 8 after news of the fraud broke but refused to answer officers questions during interview.
Williamson, 42, a prisoner at HMP Perth, pleaded guilty on indictment to a charge of fraud committed between July 16, 2015 and April 2017.
Defence solicitor Billy Rennie added: "He has made efforts to resolve this case from a very early stage.
"He is resigned to his fate that is inevitably a period of imprisonment."
Sheriff Alastair Carmichael jailed Williamson for 30 months, reduced from 45 months for his early guilty plea.
He said: "I do not accept that you did not plan this fraud.
"You perpetrated it over two years and it only came to light because you were in absentia from your work and your employers investigated.
"This was a despicable crime, taking money from people who paid you in good faith.
"Jobs have been lost, a successful business of 12 years standing has been closed down and couples were left in doubt over their weddings."
Download: The STV News app is Scotland's favourite and is available for iPhone from the App store and for Android from Google Play. Download it today and continue to enjoy STV News wherever you are.