Halloween is coming at last for gamekeepers' children
Youngsters from remote Highland estates to meet up and go guising for the first time.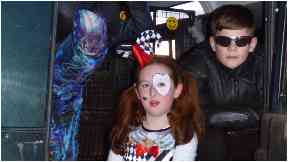 A Highlands village will host a Halloween party this year so rural children can go guising for the first time.
Dalwhinnie will host children from across the region for the event on Saturday.
Isolated gamekeeping families scattered across the remote glens came up with the idea as a way for their children to enjoy the spooky celebrations with their contemporaries for the first time.
While youngsters in most towns and cities can walk from door to door showing off their costumes and either singing a song or telling a joke for a reward of sweets and monkey nuts, participating in the Halloween tradition in the glens means lengthy road trips between homes, often located up hill tracks.
In the area that stretches from Drumtocher Pass on the A9 to as far east as Huntly, some gamekeepers' children from the Speyside Moorland Group live as much as 85 miles away from each other.
Eager for their offspring to finally get into the Halloween spirit, their mothers have decided to bring the doors to the children or, in this case, car boots.
Dressed in Halloween costumes, families will park up in one agreed location at Dalwhinnie and open their car boots to await their visitors for a spot of car boot guising.
Each will be decorated in a Halloween style and members of Dalwhinnie Community Council have donated the use of the village hall for a small celebration afterwards.
There are currently only two resident children in Dalwhinnie, resulting in the closure of the primary school by Highland Council last year.
Children from the nearby Laggan community have also been invited along to the party.
'We felt it was a shame that they were missing out on the excitement.'

Carrieanne Conaghan
Mother-of-two Carrieanne Conaghan, 31, whose husband is head gamekeeper on one of the Speyside estates, said: "There are around 12 estates in our group employing gamekeepers and because the kids are so rural, they don't have neighbours.
"The only opportunity they would have to go guising or 'trick or treating' was if they travelled into the main towns but they wouldn't know anyone.
"We felt it was a shame that they were missing out on the excitement and it was one of the other gamekeepers' wives that thought of the idea of guising from car boots instead of houses, which seemed to make a lot of sense."
She added: "My kids are absolutely over the moon about it. They've been practising their jokes and are looking forward to decorating the car and seeing the other kids."
Although guising usually takes place on October 31, which falls on a Tuesday this year, the group decided to stage the event three days earlier on the Saturday as two-hour round trips on a school night would be a logistical headache for most parents.
Angela Black , 36, also a mother-of-two, came up with the car boot guising idea.
She said: "We are the only house up our track and live in the country so we would need to travel by car into the nearest village for door to door guising.
"My kids are looking forward to helping decorate the car boot and carve pumpkins. It gets them into the spirit of Halloween."
Download: The STV News app is Scotland's favourite and is available for iPhone from the App store and for Android from Google Play. Download it today and continue to enjoy STV News wherever you are.