Scots cyclist run down in US trek back for Christmas
Alan Corsie from Kinross was left with two broken legs and a punctured lung.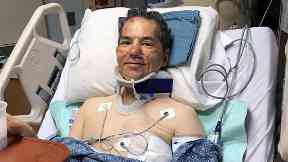 A charity cyclist run down by a car on the final stretch of his 3000-mile trek across the US has returned home in time for Christmas.
Alan Corsie had to abandon his journey after the crash on November 11 left him with two broken legs and a punctured lung.
The father-of-three was also forced to scrap plans to marry his partner at the end of his journey from San Diego to St Augustine.
The 55-year-old, who has no memory of the collision near Tallahassee, Florida, returned to Scotland earlier this month on a specially arranged medical flight.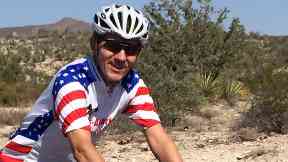 "I had gone into my saddlebag to get a tool to work on the headset of my bike," he said.
"I was sitting astride it on the edge of the road and that's the last thing I remember. I didn't even hear the noise of the car behind me. I just woke up in intensive care the next day.
"My companion rider said the car just came over the hill and ploughed straight into me. He got thrown sideways and I got thrown forwards."
Mr Corsie's companion Allan Husher, a Danish police officer, escaped the crash with minor injuries and went to his aid.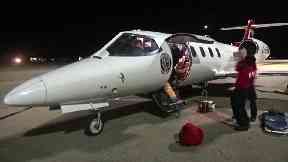 "My right foot was half hanging off and if the bleeding hadn't been stopped I might not be here now," Mr Corsie said.
"One of the first cars that stopped was driven by either a policeman or a marine - I'm not sure which - and we used his belt as a tourniquet. I was incredibly lucky."
Mr Corsie's partner Sarah Price flew out to the US after hearing about the crash, which happened less than 400 miles from his final destination in Florida.
"We did think about getting married while I was in my hospital bed but we didn't think it would make a particularly good photograph," he joked.
Mr Corsie will have to wait to find out whether he will regain full use of his right foot.
"I'm in a wheelchair for now, which is a bit frustrating," he said.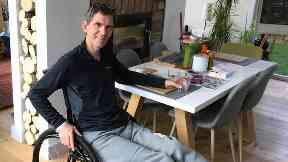 "My ankle and foot was in quite a bad state, all the tendons were cut and everything had been stitched back together again.
"It's a little bit of a wait and see to find out if I have full use of my right foot again. I've got to stay off my feet until after Christmas and then I can start some exercises.
"I'm just glad to be home."
Despite having to cut his trip short, Mr Corsie has still managed to beat his target and raise more than £4200 for Alzheimer Scotland, a charity he chose following his mother's recent diagnosis with dementia.
Download: The STV News app is Scotland's favourite and is available for iPhone from the App store and for Android from Google Play. Download it today and continue to enjoy STV News wherever you are.