Mail mystery as bill makes 13,000-mile Thailand detour
The letter was sent to Wales then Asia before arriving back in Sutherland a month late.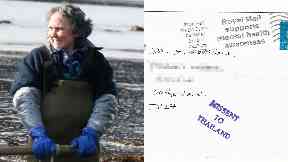 A letter posted just 400 yards from its destination arrived a month late after being sent on a 13,000-mile detour via Thailand.
Shona Marshall, 49, was sent a bill for the hire of a community hall in Scourie, Sutherland, on November 30, but it only arrived on Monday this week.
The envelope showed a postmark for Wales and a stamp reading "Missent to Thailand".
Ms Marshall, a biologist who works for the West Sutherland Fisheries Trust (WSFT), said: "It began to be really funny when I noticed that a letter sent not far away from me went all the way to Thailand.
"The letter was a bill for the West Sutherland and Fisheries Trust, sent by Scourie Village Hall Association.
"I bet they were wondering how come I haven't even paid it yet not knowing I hadn't received the letter. It was such a funny thing to happen."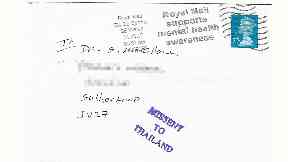 The WSFT is an organisation that works to protect fish stocks in the area.
A Royal Mail spokeswoman said: "We are concerned to learn of this misdelivery and would like to apologise to both customers.
"Cases like this are extremely rare but every letter is important to us and we do all we can to offer a first class service to our customers."
Download: The STV News app is Scotland's favourite and is available for iPhone from the App store and for Android from Google Play. Download it today and continue to enjoy STV News wherever you are.