Unemployed plumber ran crack cocaine dealing operation
Mark Simpson claimed he moved to Aberdeen to sell handbags but controlled a drug gang.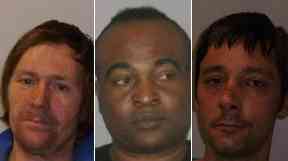 An unemployed plumber who claimed he moved to Aberdeen to sell handbags began controlling a "significant" drug dealing operation.
Mark Simpson was jailed after police recovered £100,000 of heroin and crack cocaine in a raid.
Two drug runners in the gang - Steve Vidgen and Lee Wallace - also received jail terms. They had been paid in drugs and free property by their suppliers.
Simpson, 47, claimed he had originally moved to the area from London to sell handbags, before making the "foolish decision" to get involved in organised crime.
The three men were arrested at Hutcheon Court in Aberdeen. Robert Bell, 62, was caught bringing drugs to the property at the same time as the raid and was also arrested. He was previously jailed for six years.
At the High Court in Glasgow on Tuesday, Simpson was sentenced to eight and a half years in jail after admitting being concerned in the supply of heroin and crack, charges aggravated by connection with serious organised crime.
The court heard Simpson organised safe houses to store drugs, as well as "giving instructions" to others involved.
Vidgen and Wallace were caught on CCTV moving drugs between safe houses.
Police Scotland said the case was linked to the criminal practice of 'cuckooing', where urban drug gangs take over the lives and properties of people, who are often vulnerable, to traffic illicit substances.
Vidgen, 38, received a sentence of six and a half years, while 39-year-old Wallace was jailed for five and a half.
Lord Burns told the trio: "You all acted in varying degrees in a significant drugs operation in Aberdeen.
"You distributed drugs over a period of time, which involved operating safe houses. It was all controlled by Mr Simpson."
The judge described the quantity of cocaine and heroin recovered as "substantial", which provided a "snapshot" into the scale of the operation.
Lord Buns told Simpson: "You deny responsibility, but you played a significant part."
Charles Ferguson, solicitor advocate for Simpson, said his client "had never been involved in any trouble like this."
'You distributed drugs over a period of time, which involved operating safe houses. It was all controlled by Mr Simpson.'

Lord Burns
He added: "Quite frankly, he is terrified at this and terrified by the prospect of a custodial sentence, although he appreciates it is inevitable."
Mr Ferguson said Simpson, of the Grove Green area of London, had originally been selling handbags and other beauty products in Aberdeen, before he had got involved in drug dealing.
His lawyer told the court at the time he was struggling to find work as a plumber, before his partner fell pregnant while on maternity leave after the birth of their first child.
Graham Robertson, defence advocate for Vidgen, of Aberdeen's Crown Street, said his client had been involved in the "illicit drugs scene" for 20 years and was estranged from his wife and children.
Mr Robertson stated: "He has not benefited financially in any meaningful sense from this.
"Accommodation was provided to him and drugs were provided to him. He became involved because of his addictions.
"He was a runner in the operation and made very little personally out of it."
Edward Targowski QC, defending Wallace, of Great Northern Road, Aberdeen, said his client was addicted to heroin and his involvement was "organised by his own supplier".
After the sentencing, Detective Inspector Allen Shaw said: "We will continue to target those who exploit vulnerable people and use their homes to store or deal drugs, known as 'cuckooing'.
"We are urging people to be aware of the warning signs that such activity may be happening in your neighbourhood and report any concerns to us.
"In particular you may have noticed new associates or increased visitors at a particular house, or an increased number of vehicles outside a property including taxis or hire cars. If something doesn't feel right it probably isn't so report it to us and let us have the opportunity to take action."