Last man hanged in Dundee 'acquitted' during mock trial
William Henry Bury was originally found guilty of murdering his wife Ellen in 1889.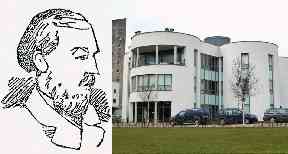 A mock trial of the last man to be hanged in Dundee has acquitted him of murder.
William Bury was found guilty for the murder of his wife Ellen in 1889, and was executed.
Law students from Aberdeen and Dundee formed the defence and prosecution respectively.
The students were mentored by Alex Prentice QC and Dorothy Bain QC.
The trial was held in Dundee Sheriff Court - where the original trial was held.
The evidence was re-tested using modern methods and the invited jury found on favour of the Aberdeen defence.