Lucky escape for skier buried up to neck in avalanche
A man was rescued after becoming stuck under the snow for more than an hour on Glen Coe.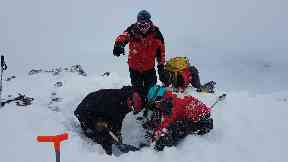 A skier had a lucky escape after he was buried up to his neck in an avalanche on Glen Coe, leaving him trapped for more than an hour.
The skier, a man in his 30s, is thought to have triggered the avalanche around 1.30pm on Friday after skiing into an area which had been closed off.
The category three avalanche, in an area known as The Spring Paper, left him stuck on a rock shelf with only his head showing above the snow.
He was only able to call for help after 40 minutes when he freed his hand to reach his mobile phone.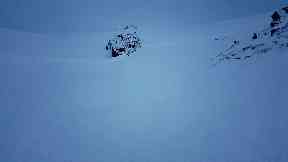 A member of the ski patrol who were sent out to help him said any further drifts of snow would have left the man completely covered.
Writing in a blog post, Davy Gunn said: "He was very lucky as the avalanche hung him up on a small rock shelf and flowed to the side and so he was only buried up to his neck and not under.
"After 40 mins burial he was able to get out his phone with one hand and phone a friend who alerted ski patrol.
"While speaking to him he was cut off and we thought taken by a second slide."
The team were able to locate the "well hidden" skier and dig him out in around half an hour.
He was cold but uninjured and was able to ski down the mountain himself.
Andy Meldrum, managing director at Glencoe Mountain Resort, said skiers should always follow instructions on the piste.
He said: "The advice we would always give is listen to the ski patrol."
Download: The STV News app is Scotland's favourite and is available for iPhone from the App store and for Android from Google Play. Download it today and continue to enjoy STV News wherever you are.